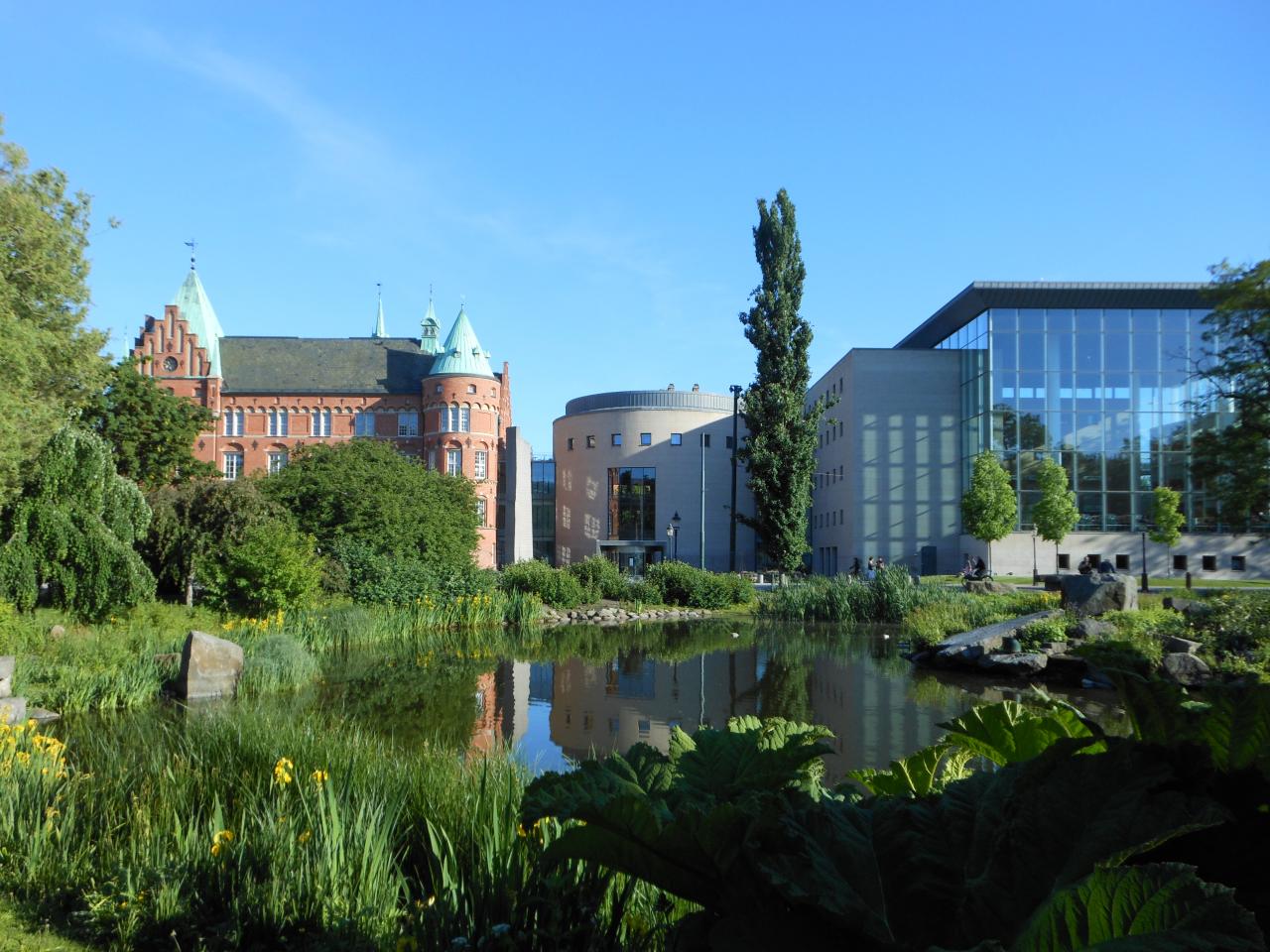 Among the headlines of summer 2017: disastrous floods in the South of England, Istanbul and Berlin, extreme water scarcity in Rome, wild fires damaging homes on the Croatian coast, the Côte d'Azur and elsewhere… The magnitude and frequency of these and other events indicate that climate change is already a reality, and the impacts will be even bigger in the future. Yes, we need to reduce greenhouse gases to limit climate change, but equally urgent: we need to adapt to the remaining impacts. All cities, depending on their geographical position, are likely to experience prolonged and more intensive heatwaves or droughts, more frequent wild fires, coastal flooding, or an increase in the frequency and intensity of heavy rainfall with the associated threat of urban flooding, river flooding or landslides. How can cities cope with these huge predicted impacts of climate change in the future, even when they are faced with tight budgets? Can nature be a solution?
Malmö enjoys its green infrastructure solutions
Malmö, Sweden's third largest city, has a long tradition of coping with excessive rainwater, going back long before climate change adaptation came on the agenda. The solutions have become even more important now with the projected increase in the number and intensity of extreme rainfall events. Just across the Øresund, Copenhagen was heavily flooded by an immense cloudburst in 2011. Damage costs mounted up to 800 million EUR. Such an extreme event could also hit Malmö. On a smaller scale, the neighbourhood of Augustenborg in Malmö already experienced frequent flooding from an overflowing drainage system in the 1980s and 1990s. Instead of extending the sewage system, the city experimented with green and blue infrastructure: vegetation and water. This solution comprises several kilometres of water channels and retention ponds, green roofs on new and retrofitted buildings, and green areas redesigned to better store and drain rain water or delay its discharge. Only excess water is led into the sewage system. As a result, problems with flooding have ceased. At the same time, the area has become much more attractive to its residents.
The city has used this approach again in Western Harbour, a new residential area built on a former brownfield. It copes with rainwater mostly with the support of the many green roofs, green areas, water channels and retention basins. Water has become a playful feature in the urban design of the area, which was co-created with the future residents right from the planning phase. The design also helps mitigate climate change thanks to low-energy housing and the integrated generation of renewable energy. All of this has made the area extremely popular not just to its residents, but also to lots of other citizens and tourists who enjoy the nice seaside area. This long-term valuable experience and knowledge is an asset that Malmö shares with other cities as a member of the URBACT network Resilient Europe.
Indeed, nature-based solutions can be a key tool for climate change adaptation. They comprise green infrastructure of all kinds but also solutions that allow natural processes, like floods, to happen without harm, e.g. by building floating or elevated houses. While Malmö is already enjoying the many benefits of green infrastructures in boosting quality of life, Hamburg and Copenhagen have recently calculated that they urgently need nature-based solutions to cope with climate change. They simply cannot extend the technical infrastructure – their sewage system – to the extent that it can cope with the amount of water expected under heavy cloudbursts. Costs for such a solution would be astronomically high, if feasible at all. Instead, green areas, green roofs, storage areas or streets as temporary waterways will take their share of water, storing, draining or delaying the discharge, thus relieving the sewage system. Calculations show that today's solutions as we know them won't do the job in Europe's climate of the future, but a combination with nature-based solutions can work.
Rotterdam opts for multi-functionality in its dense urban setting
Rotterdam also has to cope increasingly with water – from a rising sea level, more torrential rain, and river flooding. There are not many places the water can go, as much of the area is low-lying and water needs to be pumped away. That makes the city very vulnerable and dependent on a functioning technical infrastructure. The city needs storing capacity to delay the discharge of water during heavy rainfall, but space is scarce in the Netherlands, where almost every square meter is used either for houses or for agri- and horticulture. In addition, as a dense city, Rotterdam aims to be both energy and transport efficient, and liveable and attractive. In its search for innovative solutions, Rotterdam came up with a range of ideas that are being explored further in the context of the Resilient Europe network. Some are swimming structures like the solar-powered floating pavilion in the Rijnhaven that copes with different water levels, others are roof-top farms or the famous water squares. Their special design offers multiple uses and benefits: Normally, these squares are dry and include playgrounds, sports facilities, nice places to meet or take a break, but under heavy rainfall they fill up with water and protect the surrounding from flooding, and are attractive in a different way.

Nevertheless, such innovative ways to deal with climate challenges are not always easy to establish. While planners were enthusiastic, citizens were concerned: For example, would the area still be safe for their children? The planners had to find ways to overcome these barriers, build trust and convince. Meanwhile, the first water squares have been established, and they are highly appreciated.

Combinations of green, grey and soft measures to make Vejle climate-resilient
Water forms part of the identity of Vejle in Denmark too. It comes from all sides: the rising level of the Baltic Sea, combined with storm surges, elevates the risk of coastal flooding. And the rising number and intensity of heavy rainfall events brings more water from the sky and the streams. Important assets of the city, like the harbour, the city centre and some infrastructure are vulnerable, and the sewage system is not prepared for extremely high water loads. Current measures alone, like the soft measure of today's well-functioning emergency responses, won't suffice in the future.
The city already uses green infrastructure in several areas. However, as great and effective as it is, green infrastructure alone cannot deal completely with future impacts in Vejle, in particular in the event of storm surges. Hence, the city is actively searching for new and innovative solutions combining green, grey and soft measures. Its district project 'Fjordbyen' will serve as a laboratory for climate change adaptation and flood control and explore how water can also be an asset for the quality of the area, not just a risk. Innovative solutions where water can be embraced can improve knowledge, economic growth and welfare for local people.
A common factor for these, and similar examples of climate-resilient solutions in cities across the EU, is that they see climate change adaptation as part of a bigger concept. As well as collaborating in the Resilient Europe URBACT network, Rotterdam, Vejle, Glasgow, Bristol and Thessaloniki are also part of the global 100 Resilient Cities initiative. The concept comprises social cohesion, environment, health and wellbeing, economic prosperity, heritage and participation, and will enhance quality of life.
Thessaloniki builds resilience on broad participation and collaboration
In Thessaloniki, more than 40 organisations and 2,000 citizens from across the city have participated in the resilience strategy development. This ongoing co-creation process unleashes the potential for bottom up innovative solutions by residents and communities. Like Rotterdam, urban density is an issue for Thessaloniki with just 2.6m2 of green space per resident compared to the European average of 8-10m2. Nevertheless, the city sees green infrastructure as an important part of the solution. Hence, the city aims to increase the quality, effectiveness and number of benefits by redesigning the limited open space. This creates spaces for social interaction at the same time. It plans solutions such as permeable surfaces, rain gardens, green walls, but also supports urban agriculture in inner courtyards and pocket community gardens that, on top, come at low costs which is very important in times of austerity. These solutions not only involve residents in the design of their area, but encourage them to learn about agriculture and nutrition and may also help to integrate migrants and refugees with diverse agricultural traditions.

For its valuable pieces of green infrastructure, the city developed the Adopt your Green Spot programme. It facilitates the active engagement of citizens in the maintenance of urban green by taking co-ownership of public green space while keeping public expenditures low. At the same time, this activity educates people, contributes to the local economy, and creates or fosters local communities and social cohesion. Participation, education, community, connectedness, integration and more; these are the important soft factors for building up long-term and effective resilience that technical measures alone cannot do. They are relevant for resilience towards any type of shock and change.

Transforming cities with nature and innovation into thriving places – Bilbao inspires
Bilbao, which recently became an URBACT Good Practice city, takes the holistic approach to adaptation a step further. Some decades ago, the city learned painfully that the business-as-usual way wouldn't lead them out of their deep economic crisis. The city started the process towards a broadly integrated urban development strategy to cope with the complexity of its urban challenges. That continuous process is still ongoing. Over the last 30 years, Bilbao has undertaken a massive transformation. Interventions like the iconic Guggenheim museum, the clean-up of the river, new infrastructures, internationalisation, a focus on excellent design, nice parks and other urban greens, as well as the restoration of the historic centre, reinvented the city that is thriving very well now. In this tradition, the city has recently started adaptation activities that shall contribute to creating a flourishing, climate-resilient city that offers a high quality of life. One example is the regeneration of the Zorrotzaure district, a currently degraded, flood-prone industrial peninsula. A combination of grey and green measures of building and urban design will make it flood-proof and highly attractive as well, thus adding to Bilbao's overall appearance of a modern, liveable and strong city.
The cities here present feasible approaches that turned the need for making their city climate-resilient into an opportunity to boost quality of life and transform them into enjoyable and thriving places. The process to get there includes many of the ingredients already used in other urban regeneration and development processes, among them broad participation, good governance, and collaboration across sectors and stakeholders. The examples show that having a great, broadly accepted vision of the future, dedication and commitment to the task, as well as plenty of stamina, are important for a successful transformation process. Nature-based solutions have proved to be a key tool: attractive and multi-functional at reasonable costs, they are a valuable asset that every city can use.
***

Photo 2: Rotterdam ©Rick Ligthelm
        
Photo 3: Vejle Fjorbyen ©Finn Byrum
          
Photo 4: Thessaloniki ©Municipality of Thessaloniki
         
Photo 5: Bilbao ©Municipality of Bilbao