Right before the start of this year's URBACT City Festival in Lisbon I found myself sitting at the waterfront at Praça do Comércio, enjoying the atmosphere with people and boats passing by. Later, I discovered this beautiful area around Largo Corpo Santo and Porta do Mar, just a few minutes walk from Praça do Comércio, too. I was surprised to learn during the festival workshops that just a few years ago, my perception of Lisbon's urban spaces would have been very different. Where people now meet and linger, cars were parked – far from creating a charming atmosphere! So, what happened over the years? asks Claus Kollinger
Planning for people and not for vehicles – how urban mobility becomes an integrated part of our city development
Shift in planning – or "cars evaporate!"
Lisbon (PT) is seeing a paradigm shift in urban space use. Public space is no longer seen as an asset for car traffic on a large scale. Instead, it is dedicated to a multitude of use embracing transport with more sustainable mobility options.
"Cars evaporate" is what Prof. Tiago Farias told us at the City Festival workshop dedicated to urban mobility planning. Lisbon's recent and longer term experience prove him right. And, Lisbon is not alone in its endeavour to take traffic out of the urban space to create a more liveable city. More and more cities in Europe are turning their transport planning approach on its head – abandoning the idea of providing space to growing traffic volumes in favour of putting the actual city's and citizens' needs at the centre of development.
Planning for people and with people
The idea of putting people at the centre of urban mobility planning emerged with the Sustainable Urban Mobility Plan (SUMP) concept over the last ten years across Europe. Now, it is a success story thanks to an integrated planning approach to urban mobility development. The SUMP concept innovates transport planning in a range of areas, like putting emphasis on accessibility for all, quality of life and supporting cleaner transport options. They place mobility in the frame of the city 's very fabric, cooperating with diverse sectors and within overall development goals. They do not stop at city limits but consider commuting in and out too. They cater for goods and people's movement employing all available transport services. But most of all, they apply an integrated planning approach involving citizens and all concerned stakeholders to truly plan for people with people.
SUMPS mean a giant leap in transport planning. While transport planning focused on providing space for the emergence of cars during the last century and then saw the re-emergence of public transport and cycling, SUMPs now seek to answer the needs of a complex dynamic of societal, economic and technological changes cities are facing thanks to a well-structured planning process. They identify the current state of play connected to existing challenges, looking at future development pathways to create a development vision and select fitting priorities and actions to this vision. The plan details resources, responsibilities, timelines as well as monitoring and evaluating schemes. SUMPs are the blueprint of a comprehensive policy for urban mobility development. But as is often the case, the step from theory to practice is the hardest one, how do we match the SUMP idea with life in cities?
Many roads lead to Rome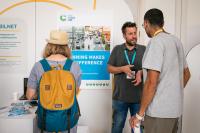 This challenge was at the heart of URBACT's CityMobilNet network. Facing 11 different locations, conditions and development histories, it quickly became clear that there is no "one-fits-all" solution at hand. The diversity ranged from small cities of 15.000 inhabitants to larger metropolis of more than half a million, from experienced SUMP practitioners to complete newcomers, from mobility cultures valuing public transport to cycling or walking dominated cities - as well as centralised planning traditions to participation practitioners... The network partners needed to apply solutions tailored to their local conditions for their SUMP development.
Where to start?
Identifying the right problem turned out to be crucial. The City of Slatina (RO) worked with the interlinkage of effects and causes and involved the entire URBACT Local Group: 97 people from public officials, security services, educational representatives, NGOs, local and international businesses and the media. The novelty was in quality and quantity of the community point of view received and integrated to the problem description. For Slatina, working methodologically at identifying the city's problem jointly with the city society proved a new and positive experience.
The Greek city of Agii Anargyri & Kamatero (GR) took another road by approaching the problems and challenges from the view of children and families. The local team went back to school and talked with pupils, teachers and parents to identify their mobility related needs and challenges. Starting with schools, they could map the requirements to accommodate the mobility needs of local families.
The town of Morne-a-l'Eau (FR) again based the start of their SUMP development on well-existing resources: work groups, objectives and knowledge out of the Local Agenda 21 process, especially in relation to the town's plan for its eco-quartier. Taken from there, the necessities to develop a sustainable urban mobility scheme for Morne-a-l'Eau were developed jointly with the local stakeholders and citizens.
Going step by step or taking it all at once?
The actual planning process took different formats in the network cities, too. In Gdansk (PO), the technical topics of urban mobility were processed one by one, starting with the most eminent challenge of parking space management and then continuing to public transport, cycling and other areas of urban mobility. The local CityMobilNet partner employed a large set of workshops for this step-by-step approach always involving a core group to all topics and extending it to interested persons and concerned stakeholders. Political buy-in was taken care of by presenting to the group of Vice Mayors and thorough citizen involvement by going to the city districts focussing on people's needs and concerns there.
The City of Bielefeld (DE) contrasts to Gdansk by taking a global view of planning urban mobility. Here, a careful analysis of the entire mobility network and services was put in place including a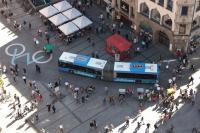 survey on current mobility choices and behaviour used to create a detailed picture ranging from city-wide to single locality challenges. The Bielefeld URBACT Local Group elaborated the global vision and six priorities out of this covering all aspects of relevance to Bielefeld's urban mobility development. The policy field cross-connecting nature of a SUMP is clearly visible by the choice in priorities: "liveable city and road space". Bielefeld continued its global approach by applying a "Future Workshop" to establish actions and measure packages to the vision and priorities: stakeholders from Bielefeld, but as well outside the area worked with maps, statistics and the pre-work results gathering knowledge as well as the opinions of cyclists, automobile-federations, public transport bodies, teachers, doctors and police personnel. Another speciality of Bielefeld's comprehensive planning process was to continuously include all political parties present in the city council on the progress and the next steps of the planning process.
Bottom-up and "top-down"?
Does size matter? The clear answer from the CityMobilNet network is "yes", since it directly impacts conditions and opportunities at hand. The Metropole Aix Marseille Provence (FR) had the task of breaking down its regional sustainable mobility strategy – the regional SUMP –  detailing the local level. Acting as the responsible planning and implementation entity for the mobility development in their area, the Metropole employed local knowledge and needs of Cassis, La Ciotat and Ceyreste to design the future urban mobility network and services in these municipalities. They needed to align the regional objectives to the diverse local conditions of a tourist destination, a former shipyard town and a residential dominated community. Local knowledge and positions were key to come up with fitting measures for the areas by the supra-local administration of a Metropole.
The South East Region of Malta (MA) used a very much "bottom-up" approach for its planning process including direct talks with citizens and stakeholders of the many local regional councils to establish the picture of mobility development needs. Engaged local politicians employed their local networks to virtually include all interested persons in problem analysis and solution development. It is best to talk to people directly to learn what they need and then think about it, is what local politicians like Lawrance Attard stressed. This open-minded policy of citizen participation works by keeping council meetings public – by physical presence or online streaming.
Don't be afraid to go your own way
Applying the SUMP concept and process is very much worthwhile for any town and city. But, towns and cities have different local backgrounds and capacities and might not be used to run a complex integrated planning process. Here are some tips for the journey ahead:
Don't be afraid to tailor the concept and process to your local conditions. The product of the planning process needs to suit your city development. Stick to the SUMP concept and process, but not at any cost.
Exchange with other cities and look for others' practise examples and experiences. Useful online resources are the ELTIS section on Urban Mobility Plans, the SUMP Network website and the Civitas Initiative.
Take care and time to identify the problems at hand as done by Slatina involving stakeholders and citizens on assessing problems, causes and effects.
Communicate with stakeholders
Take care of participation and be clear on which role stakeholders and citizens should take in your case. Should they be sources of ideas, concerns and opinions? Or advisors? Or decision makers having a say? They are clearly a valuable resource to involve but be clear in communication! Urban mobility is a complex topic with many interrelations and specialist knowledge at hand. Stakeholders and citizen need to understand what they are discussing and working on.