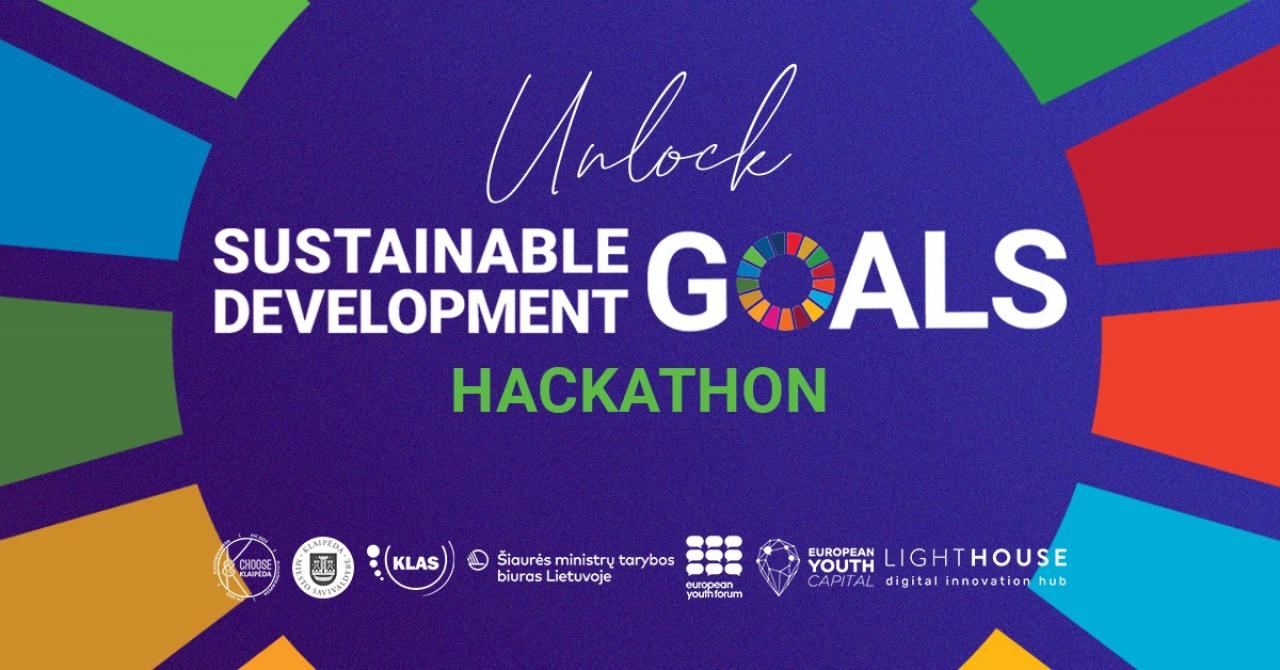 To achieve Agenda 2030 and make sure that we leave no one behind, everyone needs to get involved in the work towards a more sustainable world. Youth continuously are an important factor in this work. The Klaipeda city has Forum of Youth Ambassadors, which is a new body put in place with the hope of creating lasting and strong youth engagement. The forum is designed to generate ideas for the Youth Affairs Council of Klaipėda, which consists of 7 youth representatives and 7 municipal representatives.  This process is in progress according to national law.
In the last GG4C meeting, Klaipėda City gave a session that dedicated to best practices shared on youth actions and policy context, and how the European Youth Capital 2021 has contributed to strengthening the local policy landscape around youth engagement. The city's experience of the UNLOCK SDGs Hackathon was presented, which involved youth to develop solutions to the SDGs that were next selected by an expert jury.
The "Unlock SDGs" hackathon was be held virtually in May 20-21st 2021 and was a part of Klaipeda European Youth Capital events. During the 2-day hackathon, participants had to find innovative ways to increase awareness of 1 or all of the 17 UN Sustainable Development Goals and offer solutions to achieve the selected goal. In the morning of the 20th, introductory presentations and panel discussions about the significance of SDGs, effective communication and best practices to increase awareness and engagement were held. This followed by intense teamwork to turn the SDGs from abstract goals and mysterious combination of letters into action. The primary target audience of the event was young people (14-29 years old).
The first place winner was a team of eighth-graders of Klaipėda Lyceum, who chose the eleventh sustainable development goal: to make cities and populated areas safe, resilient, and sustainable. The proposed idea for achieving this goal was "Emergency Buttons." To address this problem, we have was developed emergency button that be installed next to traffic lights along with video cameras in derelict urban areas. It would be like a helping hand to a frightened or perhaps even injured citizen who is in imminent danger." The team intends to further develop the idea and present the "Emergency Buttons" to the city authorities.
The second place went to a youth team from Vilnius, which focused on the ninth SDG goal: to develop resilient infrastructure and promote inclusive, sustainable industrialization, and innovation. Yuffi – the prototype of a virtual restaurant menu created by students – provides opportunities to update the menu in real-time, save finances, order food safely without additional contacts, and gather customer feedback and suggestions.
The third place went to a student of Klaipėda Faculty of Vilnius Academy of Arts. It was presented the thirteenth SDG goal: to mitigate the effects of climate change. To this end, Roberta has created an educational game Superhero Academy, which aims to teach children how to care for nature.
 
Klaipėda city has a long time tradition of partnership, stakeholder engagement in the process of preparation of various documents, while NGOs are delivering about 20 percent of public services. Klaipėda city in 2021 started a citizen budget initiative and emphasizes processes of public participation in its activities, involving citizens to participate and to co-create public policies.