V naslednjih letih bo svoje akcijske načrte za reševanje izbranih lokalnih izzivov trajnostnega urbanega razvoja pripravljalo 252 mest.
Nekaj zanimive statistike razpisa si lahko ogledate na spodnjih grafih.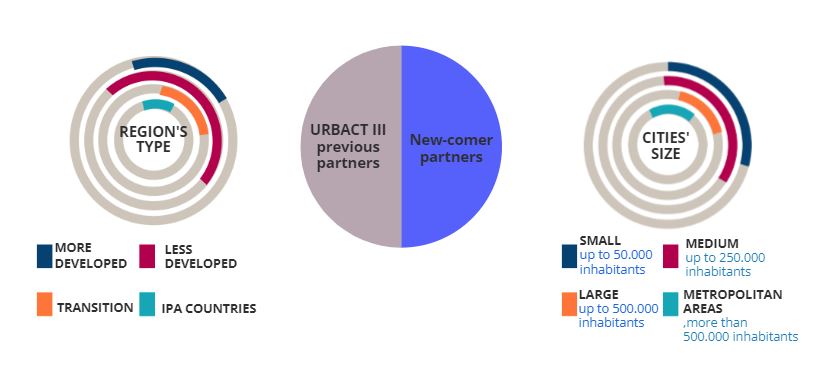 Veseli nas, da bo v omrežjih sodelovalo tudi 8 slovenskih mest, in sicer v kar 10 akcijskih omrežjih! Spodaj si lahko ogledate seznam omrežij, v katerih bodo sodelovala slovenska mesta in urbane izzive, ki jih bodo naslavljala. Seznam vseh omrežij je na voljo tukaj.
Ime Omrežja
Slovenski partner
Drugi partnerji
Izziv, ki ga omrežje naslavlja
BiodiverCITY
Poljčane

Dunaújváros Megyei Jogú Város Önkormányzata (HU)
Vratsa (BG)
Veszprém (HU)
Guimaraes Landscape Laboratory (PT)
Cieza (ES)
Siena (IT)
Limerick (IE)
S-Hertogenbosch (NL)
Sarajevo (BA)

Merjenje urbane biotske raznovrstnosti in z njo povezanih ekosistemskih storitev z raziskovanjem skupnostnih pristopov za vrednotenje in merjenje na naravi temelječih rešitev, načrtov ozelenitve in okolju prijaznega vedenja.

Breaking Isolation

Škofja Loka

Agen (FR)
Isernia (IT)
Serres (EL)
Fot (HU)
Pombal (PT)
Roman (RO)
Jumilla (ES)
Tønder (DK)
Bijelo Polje (ME)

Boj proti izolaciji z ustvarjanjem socialnih vezi in povezav med mladimi in starejšimi ter spodbujanje socialne raznolikosti.
S.M.ALL
Škofja Loka

Ferrara (IT)
Larissa (EL)
Strasbourg Eurometropole (FR)
Bucharest-Ilfov (RO)
Komotini (EL)
Associação de Municípios de Fins Específicos Quadrilátero Urbano (PT)
Sofia (BG)
Druskininkai (LT)

Izmenjava urbanih rešitev za dostopno trajnostno mobilnost za vse.
C@H

JZ Socio Celje

Métropole du Grand Paris (FR)
Krakow Metropolis Association (PL)
Granada (ES)
Osijek (HR)
Associação de Municípios de Fins Específicos Quadrilátero Urbano (PT)
Development Agency Amfiktyonis S.A (EL)
Fleurus (BE)
Sligo (IE)
Cesena (IT)

Mesta v srcu: zaustavitev izgube privlačnosti mest različnih velikosti in ozadij.
EcoCore
Razvojno raziskovalni center Ormož

Balbriggan (IE)
Dubrovnik Development Agency (HR)
Alba Iulia (RO)
Self-government of Kekava municipality (LV)
Santo Tirso (PT)
Pärnu Linnavalitsus (EE)
Villena (ES)
Tuusula (FI)

Zelena rast in prehod v majhnih mestih vzdolž prometnih koridorjev, zlasti v zvezi z rabo energije in prevozom.
Ecconnecting
Razvojno raziskovalni center Ormož

Unione della Romagna Faentina (IT)
Nagykallo (HU)
West Mani (EL)
Comunidade Intermunicipal Viseu Dão Lafões (PT)
Tori Vallavalitsus (EE)
Orihuela (ES)
Ennis Municipal District Clare County Council (IE)
Berane (ME)

Razvijanje strategij bližine za funkcionalna območja med podeželjem in mestom z ustvarjanjem močnih družbenih vezi in vključevanjem državljanov.

FEMACT Cities

Postojna

Clermont metropole (FR)
Szabolcs 05 (HU)
Krakow (PL)
Cluj Metropolitan Area Intercommunity Development Association (RO)
Comunidade Intermunicipal da Região de Coimbra (PT)
Länsstyrelsen Skåne (SE)
Torino (IT)

Razvoj politik za zagotavljanje svobode in opolnomočenja žensk z namenom zaščite, izobraževanja, emancipacije in ekonomske avtonomije.
PUMA
Nova Gorica

Liepaja (LV)
Dienvidkurzeme (LV)
Taurage Green Region (LT)
Larissa (EL)
Cento (IT)
Viladecans (ES)
Pombal (PT)
Gdansk (PL)

Razvoj načrtov urbane mobilnosti za razogljičenje - doseganje 55-odstotnega zmanjšanja emisij toplogrednih plinov do leta 2030.

Tech Diversity

Idrija

E-Trikala (EL)
Amarante (PT)
Bielsko Biala Regional Development Agency (PL)
Guía de Isora (ES)
Larnaka (CY)
National and Kapodistrian University of Athens (EL)
Arezzo (IT)
Bucharest District 6 (RO)

Raznolikost in vključevanje v digitalnih in tehnoloških ekosistemih, ki temeljijo na znanju.
UR-IMPACT
Bovec

Cinisello Balsamo (IT)
Szabolcs 05 regional development assocation of municipalities (HU)
Broumov (CZ)
Targu Frumo (RO)
Mertola (PT)
Murcia (ES)
Hannut (BE)
Longford (IE)
Kamza (AL)

Zagotavljanje socialne vključenosti in razvoja skupnosti med urbano prenovo.