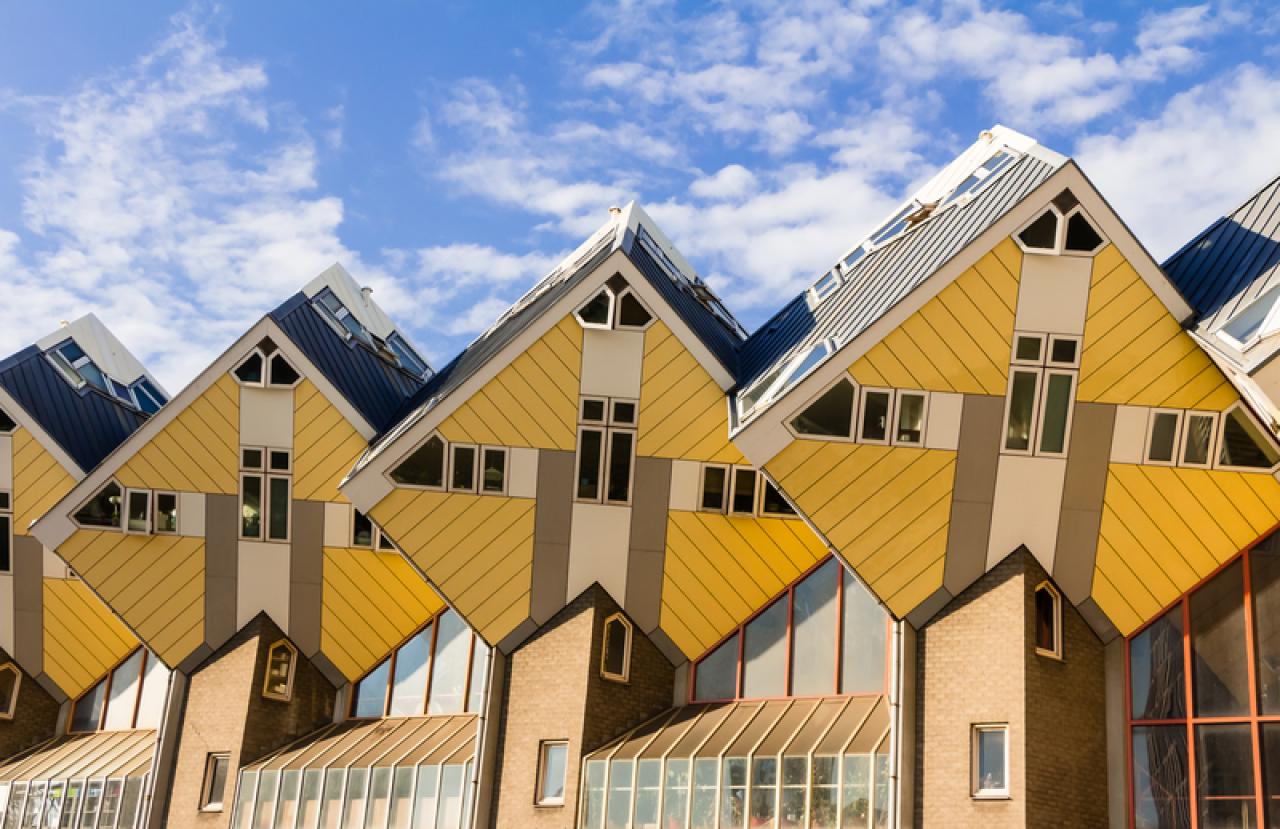 Three of the cities selected in the first call of the European Commission's Urban Innovative Actions (UIA) initiative are also working, or have worked, within URBACT on topics similar to their UIA bids: Turin, Bologna and Rotterdam.
We investigated what made these cities successful at being involved in the two European programmes, and asked whether there is – for these cities – something like a trajectory between URBACT and UIA.
This article is the second of a series of three articles planned on the topic.
It is based on an interview with Rotterdam's Cleo Pouw and Hendrik-Jan Bosch. Cleo is Project manager Europe for the City of Rotterdam and lead partner of the URBACT Projects My Generation, My Generation at Work, and Resilient Europe. Hendrik-Jan works as a strategic advisor for the City of Rotterdam and has helped significantly shape the UIA project BRIDGE.
Rotterdam and Europe: A Love Story
Rotterdam's love of Europe is measurable in the number of European projects and programmes it has been involved in. Cleo Pouw has been involved in various stages of European cooperation programmes and their administrative processes, in URBACT of course, but also in Life, H2020 and now UIA.
The love story between Rotterdam and URBACT started about 14 years ago: Rotterdam was already leading an URBACT network in the first period of URBACT (2002-2006) on the theme of Security in Cities (Securcity – see final report here) and Cleo Pouw first worked on URBACT at that time.
After this first experience with URBACT, Rotterdam went on and focussed on the themes of involvement of youth in policy making, and on jobs creation. At the time, Rotterdam was lobbying for the creation of the title of European Youth Capital and wanted to be the first City to hold the title, which then became an official European label.
According to Cleo, My Generation was a success because URBACT offered a lot of freedom to experiment, to include young people and to work with other cities. Building on this valuable experience, Rotterdam decided to go on working on similar topics within the My Generation at Work project, which focussed on what cities can do to increase and promote the employability and employment of young people.

Becoming a member of the Rockefeller 100 Resilient Cities (100RC) network, the City of Rotterdam has now decided to investigate, within URBACT, the issue of resilience in cities. The URBACT network is called Resilience Europe. Involving young people and getting them in the right jobs: a strong thematic link from URBACT to UIA.
The commitment of Rotterdam to involving young people and getting them to access the right jobs is a strong one. In the frame of URBACT, Rotterdam was able to experiment solutions and methods that clearly inspired the design and framing of the proposed innovative action for UIA.
With the UIA Project BRIDGE - Building the Right Investments for Delivering a Growing Economy, the city of Rotterdam aims to ensure that by 2020, 50% of secondary vocational training students in Rotterdam South will have chosen a career in one of the major growth sectors.
This ambitious project brings together all 57 primary schools, 20 secondary schools and 3 vocational schools in Rotterdam South. The career and talent orientation programme will start in primary school (age 9) and end when students enter the labour market. The crucial element in the programme is the Career Start Guarantee: Employers will offer 600 pupils per year a Career Start guarantee (420 for technology sectors and 180 for healthcare) at the moment they enter secondary vocational education and need to make the most crucial subject and career choices.
As scale of UIA project is very large, the project was not derived directly from the Local Action Plan designed in the URBACT My Generation at Work project. However, the thematic link between the two projects is extremely strong, so strong in fact that Rotterdam chose Eddy Adams, URBACT Programme Expert, as its main UIA expert, i.e. one of the key individuals who will accompany and guide the project towards success.
URBACT provides the right tools to design innovative actions
Cleo and Henrik-Jan highlight that URBACT provided a strong and useful theoretical background and privileged access to knowledge of other European Cities' policies.
According to them, URBACT allows the exploration of a broad set of possible interventions, and is a chance to acquire in-depth knowledge of an issue. It erodes the old ways of thinking, which provides a careful and structured way of learning.
When reflecting on and framing the new project they used URBACT knowledge extensively, such as the report on jobs and skills Job creation for a Jobless Generation. They "read everything Eddy Adams wrote on the topic", as well as the report co-written by Peter Ramsden, also an URBACT Programme Expert, for the OECD on Innovative Financing and Delivery Mechanisms for Getting the Unemployed into Work.

Both also mention that URBACT provided Rotterdam with the self-confidence needed to shape and propose a truly innovative action to UIA on the topic. They insist that "the professionalism and confidence they gained through URBACT" helped them dare to think, conceive and propose an innovative action, as well as providing them with all the methodological tools needed to respond to the selection criteria of UIA. They say it also helped in building a strong and reliable local partnership.
Exchange and transfer of results of real life experiment: A possible path leading from UIA to URBACT
European Cities help and assist each other. For instance, based on the collaboration initiated within URBACT, Rotterdam recently made a presentation to 20 Polish cities on how to apply to UIA.
But the wheel goes in two directions, and the UIA experience will also provide ground for more exchange with other European cities.
Experiences of collaboration so far have shown Cleo and Hendrik-Jan the difficulties of replicating an urban solution and transfering it without having in-depth knowledge on how the other cities work. Therefore, starting from its UIA experiment, Rotterdam would consider continuing with URBACT to transfer the experience effectively to other cities.