The Rumourless Cities project is co-funded by the URBACT III Programme and ERDF. This document reflects only the views of the authors and the URBACT III cannot be held responsible for any use which may be made of the information contained therein.
WORKSHOP REPORT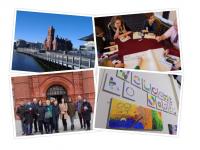 The purpose of the workshop in Cardiff was to:
Clarify the programme expectations, schedule and deliverables and work together on Transfer Plans
Explore URBACT methodology and carry out a method of co-production which could be used with Local Groups.
Visit local projects and meet with members of the Cardiff local group
TRANSFER PLAN AND URBACT METHODOLOGY
Transfer Plans- the group explored and carried out a methodology for co-designing Transfer Plans with ULGs. The methodology includes separating a discussion into 4 acts:
ACT ONE: DEFINE AND CATEGORISE THE RUMOURS YOUR PLAN WILL ADDRESS
TASK: HOW ARE YOU GOING TO DEFINE AND CATEGORISE(MAP) THE RUMOURS?
ACT TWO: AGREE AND PREPARE THE MESSAGE(S)
TASK: WHAT WILL BE THE STEPS YOU WILL TAKE TO CREATE AND AGREE MESSAGE(S)?
ACT THREE: WALK THE TALK-DELIVER PLAN
TASK: WHAT KEY BROAD AND SPECIFIC ACTIONS WILL YOU TAKE AND IN WHAT MEDIUMS WILL THE MESSAGE(S) BE DELIVERED?
ACT FOUR: WE DID WELL?
TASK: HOW ARE YOU GOING TO SHOW WHAT CHANGED?
GROUP 1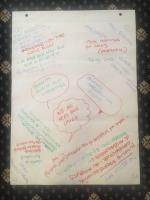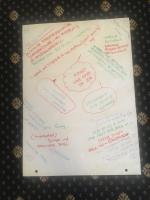 The Rumours
• Migrants bring criminality
• Migrants live on our back (welfare state)
• They take our jobs
• There is a clash of cultures (ex. consideration of women)
The Message(s)
• Migration is a human right
• In the long run migrants strengthen the economy
• We need each other - they work for all of us (ex. pay taxes, sustain our pensions)
• Migration enriches community economy
Deliver the plan
• Involve professionals campaigners, agencies, ambassadors that are respected by the silent majority.
• Create a strong image and strap-line of the campaign (recognisable visual identity and logo)
How to measure the Impact
• Focus Groups
• Provide an enriching program behind the focus groups
• Involving skilled staff (experts/researchers) considering scientific standard
Group 2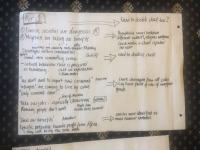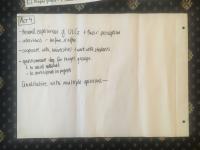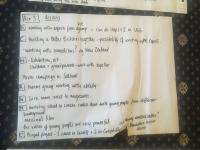 Act 1:
There was a discussion about how some cultural behaviour can be perceived as threatening such as groups of men socialising in the streets. This lack of understanding and incorrect interpretation can generate rumours. In Hamburg they have identified an overarching belief giving rise to rumours which they would like to counteract – namely the idea and belief that diverse societies are dangerous and undesirable and should not supported as a concept or goal. Common rumours mentioned by all cities were identified such as 'Migrants take our Benefits', 'Migrants steal our jobs'. Additionally, more specific rumours mentioned include:
'Muslims are causing anti-semitic thinking' (Hamburg)
'Young Somali men are criminals' (Cardiff)
'Only criminals leave their homes' and therefore 'Migration = importing criminals' (Messina)
'Ukraininans take our jobs'; 'Romany don't work' (Warsaw)- ( the irony of disliking people who both work or don't work)
'Africans bring our neighbourhood down' (Amadora)
Act 2:
It was discussed how rumours vary between different sections in society and it is important to gain more detailed knowledge of the origins and nature of rumours. For example, levels and the nature of homophobia can vary based on cultural background, religious behaviour, age etc, It was also emphasised that whilst most partners had an idea of common local rumours, these need to be double checked- through consulting ULG members and perhaps the wider community and also through checking the media and checking what is being reported the most. Also it was agreed that it was important to understand stereotypes from all sides and it was essential to include the target groups of rumours in this research.
Act 3:
Partners identified a number of actions they will take:
Hamburg will be working with a PR agency to develop campaign tools and Cardiff have an opportunity through another programme to work with PR experts.
Warsaw intends to give more voice to migrants and also plan art activities with children and grandparents coming together
Messina intends to develop work with young people form different backgrounds to create radio shows. A good example of film making is the moving film they made about some personal stories through the Arrival Cities programme https://www.youtube.com/watch?v=xD72i1qkkQE
Cardiff have a penpal project between different schools which they could build on.
Amadora, after identifying the elderly particular spreaders of rumours developed a theatre project with elderly people. They also had a young people's ambassador project
There was agreement that the voices of young people can be very powerful and influential.
The potential and power of using humour in campaigns was discussed and reference made to the anti racism campaign in New Zealand (link to campaign video is below)
The poster campaign implemented by the One Scotland programme was mentioned as a good example https://onescotland.org/
Building up good relationships with journalists was identified as a goal and possibly getting a regular column in a local paper.
Act 4:
It was emphasised that if change is going to be tracked, it is essential that some baseline data is collected at the beginning of the project which means projects must consider this now and in their Transfer Plans. In terms of identifying what has changed, participants mentioned:
Personal experiences and opinions of ULG members
Conducting some interviews and the beginning and at the end
Working with universities and involving students.
Creating a questionnaire for the target groups – who can respond personally and can also give an opinion on whether anything has changed around them in their social networks
Currently partners have money assigned in their budgets to attend at least 2 optional modules.
Hamburg have confirmed that they are keen to host the workshop on PR and viral campaign tools and propose this for spring 2020. They will be working with a PR company and other campaign experts over 2019 and will have experience to share.
Cardiff are undecided on whether they would like to go ahead no hosting a workshop in Islamophobia and extremism but have expressed they are keen to host an event and training around city narrative.
Warsaw are undecided whether they still want to host a workshop on technology, apps and city games.
Amadora are happy to host a workshop on education and young people.
Messina are most interested in a workshop with a focus on young people and also use of technology.
It is clear from the discussion that took place that some thinking needs to be done over the next few months to refine the programme we currently have and potentially make some changes. We need to as soon as possible confirm dates of events and which partners will be attending. Some initial thoughts are:
-To link some themes together where there is synergy and interest for both- for example, to host a 2 part workshop in 2 cities such as Hamburg and Warsaw/Amadora which links PR, campaigns, apps, digital media and young people.
-By merging and reducing the number of thematic workshops, we could add some study visits to other cities experienced in anti-rumour work such as Limerick or Erlangen.
It is vital that partners think carefully about this in relation to their local priorities and transfer plans so that b y the end of March we can confirm optional modules and start planning dates and agendas.
Some resources to support your work and to share with your ULG:
Anti Rumours Global Facebook links to projects, videos, news about other anti rumour cities 
Set of 5 anti rumour strategy videos published by Intercultural Cities on u tube 
Anti-rumour agent resource pack (produced by Doras Luimni, Limerick, Ireland)- contains exercises to use when facilitating group work 
Example of use of humour and a comedian in a campaign- New Zealand