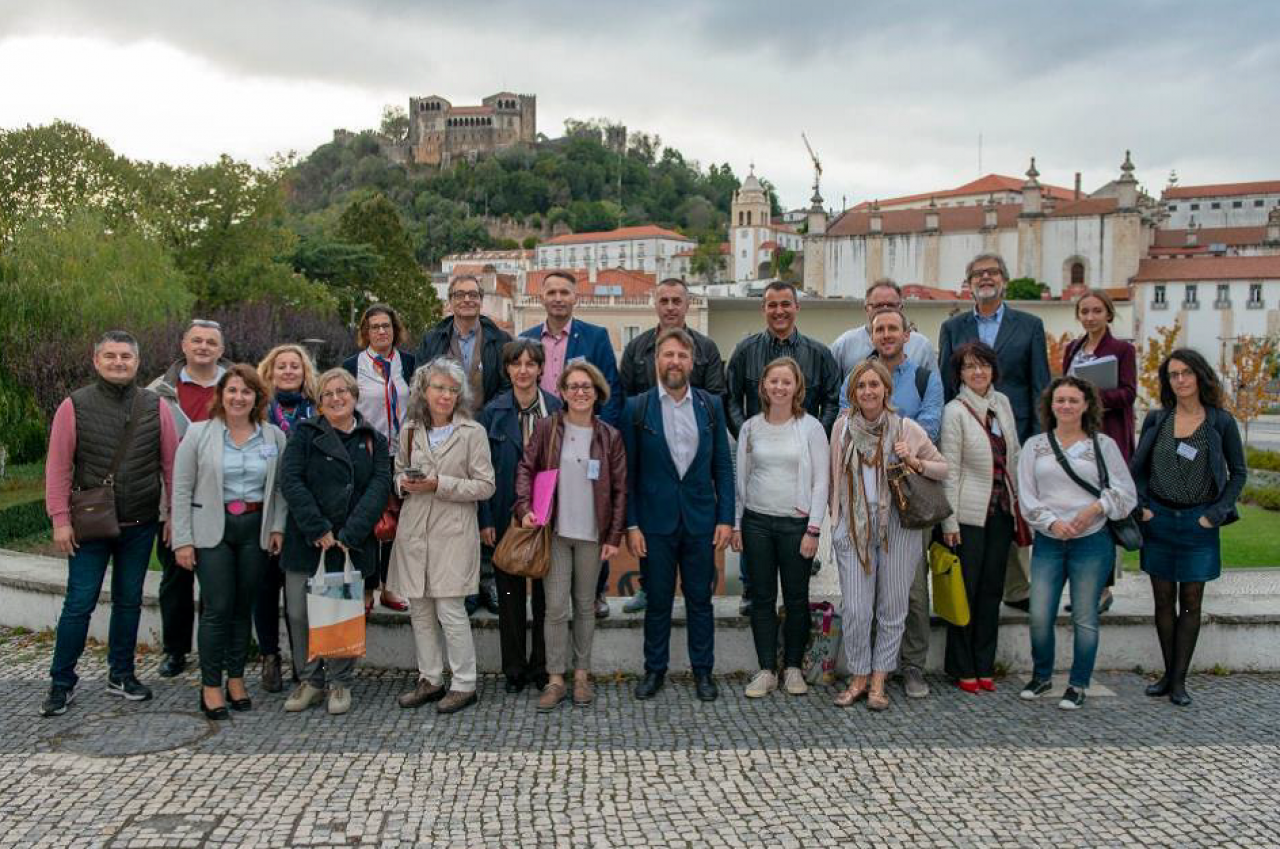 UrbSecurity is a network of 9 cities which proposes an innovative approach to urban security and safety by integrating it with urban planning, social cohesion and other urban policies, following the recommendations of the Urban Agenda on Security in Public Spaces expected to be published still in 2019.
UrbSecurity proposes to widen the security and safety application in public spaces and city planning and management of the 9 cities in its network. It aims to address public security policies from different perspectives by exploring their relation to other urban policies, thereby promoting socio-economic development. The idea is to bring safety and security to all levels of governance, preventing social exclusion and anti-social behaviour and, ultimately improve citizens' quality of life.
The development of synergies among several policies is a key aspect in the project as security has so many variables and stakeholders that have a direct or indirect influence. For example shop owners can highly benefit from a secured environment but in fact they become also agents in the process as shops are themselves a major contributor to the perception of a safe environment. The aim of the project is therefore to work with all stakeholders, test small scale solutions, promote citizens participation and, therefore promote changes in the city.
Urban planning is considered a key element to define the cities' spatial design which has a direct influence in the spatial segregation of society and in citizen's perception of urban security and safety. Urban security and safety integrates urban crime prevention principles into safety-conscious urban development interventions which aim to reducing urban vulnerability, promote the integration of cross-cutting safety issues and create a transformative approach into urban intervention by city authorities.
In this context, this network intends to provide a series of innovative tools (practical actions, strategies and methodologies) to the involved cities that can be used by local authorities and stakeholders and provide answers to the following concerns:
1. How can urban planning help reduce urban crime and violence?
2. How can urban planners create safe and healthy places?
3. What tools can be used to monitor and evaluate these actions?
4. How should local stakeholders participate in urban planning regarding city's security and safety?
The main goal of UrbSecurity is therefore to co-create Integrated Action Plans (IAP's) on safety and security that promote smart, sustainable and inclusive growth. Good practices such as the mix-use of spaces, promotion of activity generators, reliable infrastructures (as proper lightning) or crowdsourcing will be investigated and analysed to assess its transferability into the future IAP of the participating cities.

The partnership
The partnership is led by the Municipality of Leiria and includes eight other cities/regions, namely: Madrid (ES), Parma (IT), Longford (IR), Mechelen (BE), Pella (GR), Michalovce (SK) and the regions of Szabolcs 05 Association of Municipalities (HU) (HR) and Romagna Faentina (IT).
Three of the members of the partnership, Unione della Romagna Faentina, Mechelen and Madrid are also involved in the Urban Agenda on Security in Public Spaces proving a bridge between the Urban Agenda and UrbSecurity.   
The UrbSecurity partnership will look for solutions to tackle the following challenges:
- Improvement of spatial design, urban planning and development of security by design concepts, including better protection of public spaces.
- Improvement of the resilience and efficiency of the public infrastructure;
-  Improvement of public-private cooperation in urban security (public control and private areas), for instance by promoting a wider use of ICT in video surveillance, data exchange, etc.
- Assessment of urban security: building a framework of indicators to assess the evolution of citizens' perceptions towards safety and security, identifying new and potential vulnerable areas and monitoring changes in their security.
- Creation of effective and easy to use monitoring tools for public safety as a means to establish more information led actions and measurement of their impact;
- Increase citizen participation in security and safety issues – by involving local associations in security policies,  for instance, implementation of crowdsourcing  schemes as the Volunteer Geographic Information (VGI) where users collect and share information voluntarily with the city authorities on safety and security issues using digital platforms.
- Creation of a model for citizen participation and co-creation in the field of crime prevention and building resilience for vulnerable people against criminal involvement;
- Creation of a joint training curriculum for crime prevention officers for setting up the implementation of prevention projects;
- Design and test small-scale interventions on urban design and activity generator to determine their effectiveness;

UrbSecurity and the EU Urban Agenda
Safety is currently seen as one of the aspects that influences the quality of living in the EU. The framework developed by Eurostat proposes different methods of measuring safety, namely income, living conditions, education or health, and, equally important, subjective measures such as an individual's appreciation of their living environment, whether they can rely on friends/family and how safe citizen's feel.
Safety is currently seen as one of the aspects that influences the quality of life in the EU. As set in the framework developed by Eurostat, that includes objective measures like income, living conditions, education or health, and subjective measures such as an individual's appreciation of their living environment, whether they can rely on friends/family, how safe citizens feel is one of the measurements taken into consideration.
The notion of urban security has just recently been introduced in the international political debate and it is now each government's obligation to integrate this concept within its policies. Protecting public spaces poses particular challenges for the EU due to the "the broad variety of public places that have been or could be targeted, their different characteristics ranging from fully open spaces to areas with some form of protection, the variety of actors involved in the protection of such sites, the risk of mass casualties and, importantly, the imperative to strike a balance between improving security and preserving the open nature of public spaces, ensuring that citizens can continue their daily lives", as stated in the Communication of the Commission to the EU parliament "Action Plan to improve protection of public spaces" (Brussels, 18.10.2017 COM(2017) 612 final). This Communication highlights the importance of increasing awareness of local urban authorities to the vulnerability of public spaces, enhancing knowledge and the spread of good practices in promoting security by design.

Wrap-up
The design of urban public spaces and urban planning are constantly challenged by how cities are used and how citizens occupy and make use of its spaces. The introduction of new trends and necessities and the increase in problems and conflicts among users brings rapid changes on the local urban authorities' procedures regarding the design and the management of a city. It is therefore essential that the "user's experience" is considered as a main input on the analysis of how the spaces are used and what conflicts or are taking place.
Urban safety and security are fundamental components of the modern democracies of the EU. It is therefore urgent that European local urban authorities begin to accept their role in designing and implementing security policies. UrbSecurity intends to make sound contributions to these policies and provide guidelines for other EU cities to pursue their strategies in safety and security in an integrated and participative way.