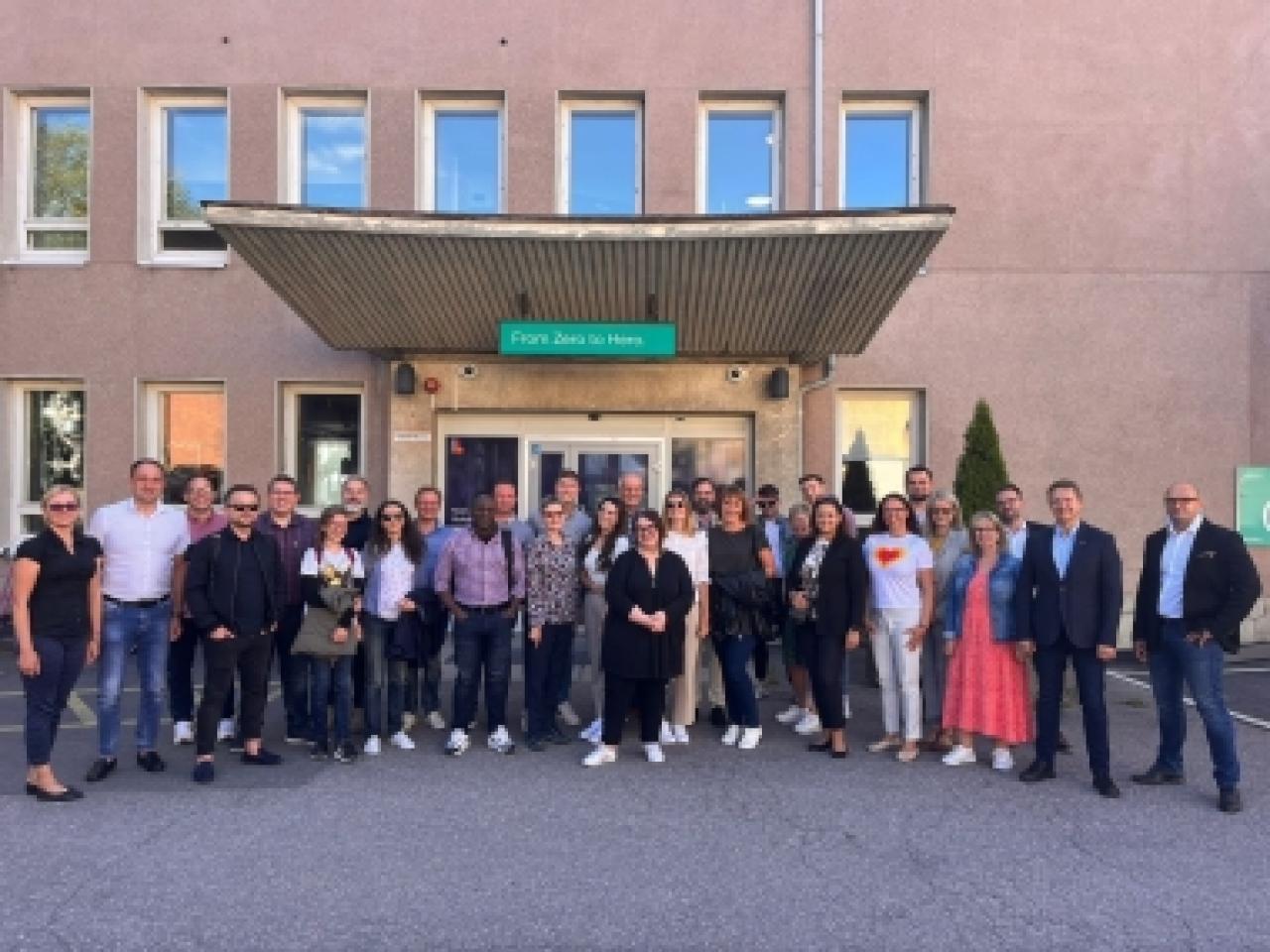 Some reflections from Alison Patridge, Lead Expert, on the URBACT TechRevolution 2.0. network's study visit to Helsinki, Espoo and Tampere in Finland.
'Communities that play together stay together' was one of the standout messages from the TechRevolution 2.0. network's summer study visit to Finland in August 2022. We took the unusual decision to organise this optional visit in the peak of the holiday season and interestingly found that the timing and the location attracted a multi-stakeholder group of 30 people from all 5 partners. Included in the mix were senior decision makers and politicians, something we haven't always managed to achieve with other transnational meetings. Finland was a natural choice, given their leading position in Europe's innovation landscape, as reinforced once again by Finland topping the 2022 Digital Economy and Society Index. Over an intensive week, we visited Helsinki, Espoo and Tampere and received a warm and stimulating welcome throughout.
This is a personal reflective piece which I wanted to write to explore a few of the messages that resonated with me (for good or for bad) during the trip:
'Communities that play together stay together'

'We don't care who you are, where you're from or what you did'

(I take issue with this one )

'We don't really have metrics – we have anecdotes'

'Your city's heritage is a vital part of your innovation ecosystem'
So, let's start with 'Communities that play together stay together':
I've been to Finland a few times now and each time I sense something about the working environment, that is hard to put your finger on. Speakers on this trip talked about the importance of work-life-balance and most of them had just got back from a good 4-6 week break. It put me in mind of the twitter Out of Office meme that was doing the rounds earlier in the Summer:
American out of office: 'I have left the office for two hours to undergo kidney?surgery but you can reach me on my cell anytime'
European out of office: 'I'm away camping for the summer. Email again in September'
This might seem flippant but the lifestyle offer is a huge part of Finland's success when it comes to innovation. The team in Tampere proudly told us that Tampere is officially 'the best city in the happiest country in the world'. Espoo has grown almost from nothing over the past 50 years to become Finland's second city and its proximity to nature was cited as one of the drivers of this 10-fold population increase with an influx of people from more than 150 countries. All the spaces we visited included non-work environments – cafes, yoga studios, even a giant teddy bear shaped bean bag named Boris! The spaces are friendly and yet complex. These design features are not accidental of course – they are there to create spaces and places which are conducive to chance encounters from which good things may come – we have referred to this as 'curated serendipity' in TechRevolution. One of the contributors spoke of the need to 'enable a magic environment which stimulates creativity, where people come together and ideas will come'. Those responsible for running programmes and spaces spoke about the importance of their networks of alumni. There was a sense of pride, combined with a tangible fondness for the communities they served. Speakers were engaging and I don't think I've ever known so many questions. As an URBACT Lead Expert, one of my roles as I see it is to looking after group dynamics and I came home satisfied that we had created an informal, at times playful space where people felt safe to ask questions.
'We don't care who you are, where you're from or what you did'
One of the spaces we visited proudly displayed their values on their walls:
Growth Mindset

Team spirit

Inclusiveness

Take Action
So far, so good but I found myself flinching a bit when I saw the strap line: 'We don't care who you are, where you're from or what you did'. Finland prides itself on the level of equality in society and economically. However, when it comes to the tech and innovation ecosystem, the figures do not back up this narrative. According to Sifted, 'whilst many people think of the Nordics as a region where men and women are treated pretty equally this is not reflected in a report put together by Unconventional Ventures based on Dealroom data which shows that all-female startup founding teams received just 1.3% of the available capital in 2019. 93% was picked up by all-male teams'.
Through my work founding and now advising OneTech, which connects underserved communities with opportunities in the tech startup ecosystem, I have learnt (and continue to learn) a huge amount about equality, diversity, equity, inclusion and justice. The tech startup world is immensely privileged and full of highly educated, well networked, mostly white men. Through OneTech we have learnt that it's absolutely not ok to treat everyone the same. There is a big difference between treating people equally and treating them equitably. In fact, the ability to really get under the skin of an individual's personal back story, aspirations and potential challenges to progress has been a key part of our success and something we plan to do more of in the future.
It was great to meet the team behind Shortcut which is a not-for-profit entrepreneurship and employment support organisation for migrants and local unemployed people. We heard about other local projects which aimed to diversify the pipeline of communities coming into the sector. But the emphasis was most definitely on supporting highly qualified people to set up high-growth-potential, scalable businesses. A lot of these opportunities are simply not accessible to many communities.  I'm keen to understand more about what is being done to support underserved communities to access these high value networks and wonder even if there could be potential to share some of OneTech's learnings to support this.
'We don't really have metrics – we have anecdotes'
This was one of my personal favourite quotes from the whole trip. It was a remark made by one of the Espoo City Council speakers about how they engage with specialist startup support organisations to enable the city's businesses to develop and grow. We were trying to understand how services were organised and procured. Finns have a strong history of co-creation and we heard how the various stakeholders in the local innovation ecosystem come together regularly to co-create strategic goals. A lot of services are co-funded by the city, often in partnership with the university and startup support providers. We asked how success is measured and what KPIs are used. We were told how hard it was to define impact metrics when working with lots of different, and very specialist, organisations. The contracts therefore tend to define general roles and strategic goals only and the city does not steer providers in any tangible way. Rather they trust the experts to work towards the common goal that has been co-created. Specialist providers are left to focus on their core operations – to do what they do best. The city's role is to convene rather than to duplicate or potentially displace innovation support. On the other hand, we heard how the value of startups to the national economy  is now equal to that of the more traditional forestry sector. This was a smart way of communicating top level impact.
The city of Espoo has developed an Innovation Ecosystem Agreement with neighbouring municipalities. Of course, there is still a degree of competition between them but this comes with a recognition that national relationships are very important and that these wider networks help to create an international pull which could not be achieved by onecity working alone.
I had SO many questions about the mechanics of all of this as it seems so very far away from where we are in the other countries when it comes to developing, delivering and funding tech startup support. It's impossible for me to imagine a world where government is effectively procuring an outcome. Social Investment Bonds are probably the closest parallel I'm aware of. I'm also keen to hear more about what's included in an Innovation Ecosystem Agreement! I've already fixed a call with the Espoo team to unpick all of this a bit more. Here's hoping we can be part of a movement that changes how all this work in other countries.
'Your city's heritage is a vital part of your innovation ecosystem'
This was more of a timely reminder than new learning per se but the influence of the contraction of Nokia across the cities we visited was clear. In Tampere, we heard how Nokia suddenly laying off thousands of workers meant that the city suddenly had 4000 smart people interested in starting new companies. The city saw it as a blessing from an economic development perspective. Before then, everything was oriented around Nokia and there is now a recognition that there was a risk of killing the diversity in the region's economy as so many companies were entirely reliant on Nokia as a customer. Since the closures, the city has invested heavily in innovation - creating living labs and a series of local test beds which create the conditions to pilot new ideas and innovations. One good example is a development and test platform for autonomous driving - https://tamperetestbed.fi/en. Another is the IoT Tampere Platform which offers an open testing and data collection environment for startups and contributes to the evolution of a genuinely smart city https://smarttampere.fi
At times, some of this felt a bit out of reach for TechRevolution partners but there were other more relatable examples of embedding innovation infrastructure within local industrial heritage - Platform 6 has been developed in a building with a textiles & fashion origin and the interior (co-designed at low or no cost with the local community) was full of reminders of this. Similarly, Maria 01 has been developed on the site of a former hospital. In fact, for the first 5 years of its operation the sign above the door read 'This is not a hospital'. Across the site there were regular visible reminders of the building's history – whether the occasional doctor's chair, a stretcher or some lighting from an operating theatre.
All of this served to remind me – and hopefully others present – about the importance of understanding and articulating your own local story, its origins, how it links to local history and industrial heritage and who might be considered its custodians.
There were of course lots of conversations during breaks and dinner about how the city teams might take some of this learning back to make changes in their own cities. Fuelled by inspiring content and workshop sessions to reflect upon how it might be useful locally , evenings were spent having fun together including mad dashes by some around each city on e-scooters and bikes!
Which brings me back to the first message – 'Communities that play together stay together'. I consider myself to be very privileged to have worked within pan European networks of cities and regions for the past 30 years. I love watching how partnership dynamics evolve over the course of a couple of years working together, how friendships are formed and how all sorts of unexpected spinoffs emerge. This trip felt like a real turning point for the TechRev 2.0. Team and I would like to think that this community which enjoys playing together will indeed stay together, even when URBACT funding ends later this year.
With thanks to the host teams and contributors, including but not limited to:
Laura Thomas, You and Us Events and Tracey Johnson and Ceri Batchelder from Barnsley
Maria 01, Helsinki – Ville Simola, CEO,

Maria 01
Oki Tag, Co Founder ReMode
Teemu Seppala, Business Advisor at

NewCo, Helsinki

City of Helsinki
Suvi Kiviniemi, Game business ecosystem specialist
Vickie Went, Head of Program and Community,

Shortcut
A-Grid,

Aalto University's startup incubator in Espoo
Mehta Heino, Co Founder of local startup
Alexandra Santos, CEO,

Platform 6,

Tampere
Mirella Mellonmaa, Marketing Lead,

Tribe Tampere
Tero Kyckling, Senior Business Advisor,

Business Tampere
Ville Kairamo, Demola Global
All TechRevolution 2.0. Partners and stakeholders.