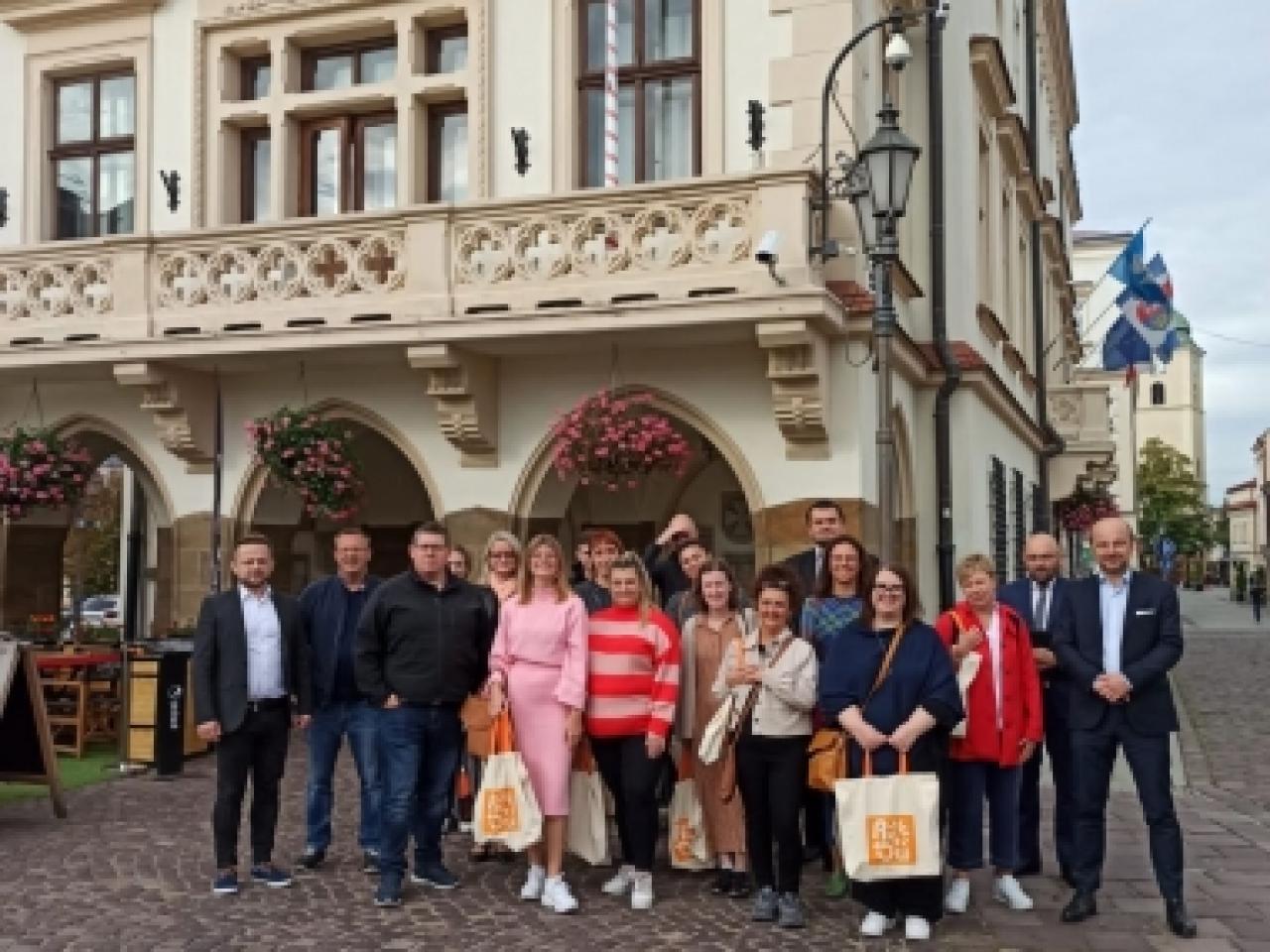 An article by Alison Patridge, TechRevolution Lead Expert.
This article presents some top tips from expert, Steve Pette, who delivered a masterclass to support our partner cities to grow workspaces with impact, along with some reflections from a panel discussion and workshop that followed.
Here the term 'open workspace' refers to any workspace which offers easy in-out membership or contract terms and provides any combination of co-working, fixed desk, and fixed office workspace options.
Open Workspace 101 - Top Tips
Below, the workspace discussion is summarised under the 3 main headings from Steve's masterclass – namely physical space, emotional connections and financial issues.
Physical Space
When it comes to the physical environment itself, the best open workspaces offer a home-from-home environment where people want to work, share, and connect. These spaces need to be inspiring and provide many different areas and zones which provide a degree of experience. So, it's not just about desks, although fast and reliable WiFi (with a decent backup) is probably the most important utility. Post-COVID, coworking is ever more challenging. As well as competing with other workspace operators, they are effectively competing with peoples' own homes, with the cost of, and money spent on, a potential commute being a key barrier to access. Operators are now looking at offering more areas for socialising and more creative spaces for in-person collaboration, innovation and team building. Now more than ever before, the user experience is key and the best workspace operators tend to engage users in design and development from the start.
'Entrepreneurship is a contact sport. We need to create moments where people bump'
Steve talked about how proximity can breed opportunity and how workspace operators have an opportunity to almost curate serendipity through design and experience.  He explained how the entrance to a space and the coffee shop are often the important zones: – first impressions count and good common spaces lure people in which drives demand in the long term. In his view, event spaces and reception areas are effectively the shop window.
During the meeting there was a discussion on the impact of COVID on the physical nature of open workspaces. In Sheffield Tech Parks (STP), for example, there had been a realisation that 90% of occupiers were laptop-based and simply went home when lockdown was announced. There was a fear that STP would be redundant. Subsequently, various areas have been repurposed to attract different types of users, offering work benches, 3D printers and lab spaces. The park is now back at full occupancy.
Emotional Connections
The best open workspace operators are those that take the time to understand, and respond to, their customer needs and go on to create opportunities on the back of this. Often, these spaces are run by people with a background in hospitality who really understand the importance of customer service and realise that good workspace is actually about people rather than office provision. People like to feel 'loved' and Steve connected this back to the importance of a first-rate customer experience. He also advised cities to try and stand out from the crowd and to get a name for providing something beyond just desks and space.
'Knowing your people and being a connector gives you a superpower'
In Barnsley, the inspiration behind the TechRevolution transfer networks, the Digital Media Centre (DMC) has invested significant resource in creating an 'experience team' charged with talking to members, tenants & customers and creating a real sense of community. One team member, Julie Hine, used to run the DMC 'coffee cart' and described part of her new job as providing a 'little cup of love' to people. As well as supporting the overall operations, she spends her day getting to know members, understanding what their business does and helping them to take advantage of what's on offer to support their development and growth. Each new member is given a little bag of merchandise – a bottle, a mug, pends and notebooks. This only costs the DMC around ¢10 but goes a long way in terms of a personal welcome and increasing the 'stickiness' of their offer in that it adds to their ability to retain members. The team also support members to find good follow on space when they need it. All of this has resulted in increased occupancy and, having opened DMC 02 in 2020, there are already discussions around a DMC 03 and maybe even a DMC 04.
To boost the community offer, the team organises regular events for their members. And they encourage members to take over the event space and provide something which adds value to the wider community. Marketing focuses on member stories and testimonials. It's a very human-centred approach and, done well, this is coupled with a good back-end system that allows operators to update member profiles and build intelligence. Ultimately all of this will help to attract and retain businesses to Barnsley, thereby supporting the growth of the local digital economy.  
Financial Impact
With several of the TechRev 2.0. cities on the cusp of raising money to develop open workspaces the masterclass provided a timely opportunity to look at potential business models and explore how public-private partnerships might work. Steve urged caution when dealing with potential private sector sponsors, advocating for clear contractual terms, and advising cities to try and avoid potentially restrictive exclusive deals. Rather he suggested using a 'friends of' model where local businesses are offered space or access to members in return for any financial contribution. He recommended having memberships for drop in co-working; fixed desks in a co-working area and private offices. The optimum size is 650m2 plus with 65% of this dedicated to offices, 20% to fixed desks and 15% to flexible coworking.
Where generating revenue is a driver for the city, stand-alone workspace can be financially viable subject to size of space (ideally 650m2 plus).  It's the offices that will drive margin - but the greatest benefit will come from connected multiple workspaces where you can leverage opportunity and revenue streams. Strategic partnerships add a level of financial support if you can secure a fee-paying larger partner to help underwrite some of the operational costs.
Precise pricing will of course depend upon location. Cities considering developing open workspace options should ensure they have excellent transport links, are close to shops and services and are pedestrian & bike-friendly.
In terms of attracting private sector investment, it's clear that this will only happen if investors see they will make a return. Sometimes this is not the right route for a public authority. Instead, there are many examples of public sector bodies providing space free of charge or at a peppercorn rent and then engaging private sector organisations to run that space. Increasingly, the operator is then expected to generate quantifiable social value for local communities in return.
And whilst a standalone co-working space is rarely financially viable, it is nevertheless an essential part of a city's workspace offer. It provides a sort of pathway in for earlier stage businesses, solo entrepreneurs &/or founding teams. It allows them to be part of something bigger, to share their highs and lows and provides a social space and sounding board as their ideas take shape and progress. In addition, it provides access to tech and digital businesses working in totally different sectors. This creates opportunities for collaboration or even new business ideas or a pivot to something different. As these individuals or small companies grow, if they feel part of a community, they will naturally want to progress through fixed desks into private office space within the same workspace. So, value is added to the local economy incrementally and this takes time, but long term it reaps quantifiable reward.  
Top tips
At the end of the session in Rzeszow, the panellists were asked to give 1 piece of advice to cities looking to establish open workspaces. There responses offer a fitting conclusion to this piece:
Make sure you invest in an experience team or a receptionist who loves people
Create places with purpose. Make sure people understand what it is & why it is
Invest in the people who come into the coworking area – later they often progress into high value businesses
Be brave, be bold and talk about it loudly – that will attract & pull people in
Use the network effect of groups like TechRevolution to be more than just yourself
Keep brilliant people in your address book – they will support you with knowledge, expertise & experience. Being able to lean on people for advice & guidance is invaluable, especially when the unexpected happens.
With thanks to:
Tracey Johnson, Lead Partner of TechRevolution 2.0. and DMC Manager, Barnsley
Steve Pette, CEO Hearts and Minds and Co-Founder of Central Working and Ormeau Baths
Bartosz Jadam, Inventur, Rzeszow Technical University
Julie Hine, Experience Officer, DMC, Barnsley
Tom Wolfenden, CEO, Sheffield Technology Parks