Labelisation date : 02/06/2017
Lisbon , Portugal

Size of city : 517 802 inhabitants

Contact

Lisbon City Council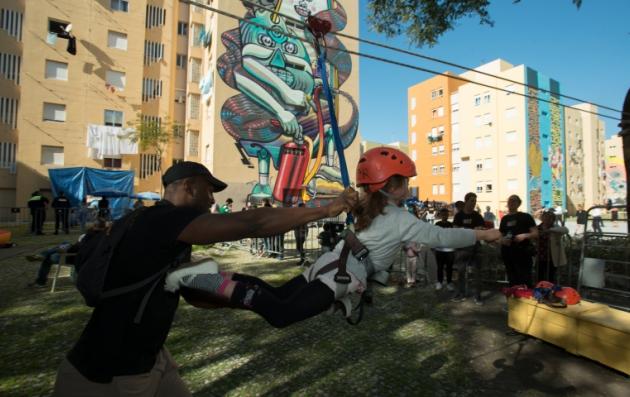 Summary
The Lisbon (PT) Local Development Strategy for Priority Intervention areas provides the city with a range of integrated toolboxes based on a co-governance process.
It organises and brings together a bottom-up participatory perspective that ensures a horizontal and collaborative local approach, to decrease and mitigate social, economic, environmental and urban exclusion and enhance social territorial cohesion. The tools used vary from neighbourhood mapping, a Local Partnerships Programme funding local projects to a bottom-up co-governance model to promote employment, education and social-territorial cohesion. The results were visible at municipality and community levels. 
Between 2011 and 2020 there have been approx. 1100 applications submitted with 392 approved projects selected by an independent panel and more than 600 partners involved. The toolkit helped Lisbon establish its own path, roadmap and goals, and set the civic participation and co-governance as a benchmark to ignite a sustainable Urban Local Development.
The solutions offered by the good practice
This good practice shows a co-construction of policies and strategies, concerning social and territorial cohesion and sustainable urban living, through a participative framework involving the community, sharing with the stakeholders the decisions, commitment and accountability in the implementation of BIP/ZIP Local Development Strategy.
The first tool, BIP/ZIP Mapping, identifies the Priority Intervention Territories of the city, according to the overlapping of Social, Economic, Urban and Environmental deprivation indexes that express the fracture of the city.
The second tool, BIP/ZIP Programme, funds and ignites local community projects aimed to respond to local needs, promoting local organisations partnerships and empowering population to a sustainable urban development.
The third tool, GABIP local offices, develops a co-governance framework involving Municipality, Local Boroughs and all relevant stakeholders and citizens organisations. They promote an articulated response among the political, administrative and technical dimensions with local organisations and community.
The fourth tool, a Collaborative Platform for Community-Led Local Development (CLLD), is a bottom-up co-governance network that develops a global strategy to BIP/ZIP territories and promotes experience, sharing to enhance local partners' skills.
These integrated tools impact citizens' participation in tangible local development, offering a holistic approach that covers social, economic, urban and environmental dimensions.
Building on the sustainable and integrated approach
This good practice tackles urban challenges through participative diagnosis processes that identify social and territorial needs in order to eradicate poverty, social exclusion, unemployment and environmental problems.
BIP/ZIP strategy empowers the community to develop an integrated intervention through a bottom-up co-governance model that assures sustainable actions in deprived territories.

This approach is sustained by meaningful actions, assuring that these initiatives promote change with real impacts in the community. This strategy is designed to accommodate the different capability and maturity levels of each community. It is action and results' oriented, so it can be flexible and adaptable to different realities and experiences. This flexibility is the key to actions and partnerships sustainability.
Other evidence of the sustainability and horizontal integration was the creation in the Municipality of the Local Development Department in 2015, which means the recognition of the local development in BIP/ZIP territories.
Another key factor to achieve a sustainable challenge is the inclusion of local communities and their stakeholders in all BIP/ZIP local development approach. 
This means that when the community is involved in all parts of the process (thinking, decision making, implementation, and monitoring of results), it multiplies the sustainability of the action.
Based on participatory approach
The BIP/ZIP Mapping was submitted to a public consultation to receive civil society, academy and Local Borough contributions on the identified deprived territories. This public consultation had more citizens participation than the equivalent public consultation of the Lisbon Master plan revision.
The BIP/ZIP Program supports activities and projects in BIP/ZIP neighbourhoods, and it's one of the most participative processes of the city. This Program ignites local initiative, developed in partnership with Local Boroughs, local associations and NGOs, aimed at fostering social and territorial cohesion in Lisbon. In the ten editions of the Program (2020) a total of 392 projects have been approved, gathering 647 entities (214 promotors and 433 partners). These projects generated a total of 2 436 activities developed in BIP/ZIP territories, impacting an average of approximately 107 400 inhabitants each year.
Each annual edition of the Program is presented in a capacity building workshop to share experiences and good practices of previous editions that may be adopted by new candidates and applied in other BIP/ZIP territories.
These workshops have been attended, each year, by an average of 180 associations.
The GABIP local offices gather approx. 20 inhabitants' associations, 10 of the 24 Local Boroughs and other relevant local actors in the co-governance structures. The development of these projects and initiatives is always promoted by local stakeholders, the community and the Municipality in Co-Governance.
What difference has it made?
Between 2011 and 2020, with a total fund of €15,802,212, a total of 392 projects were approved, gathering 647 entities that participated both in the execution and sustainability phases. These projects generated a total of 2 436 activities developed in BIP/ZIP territories, impacting an average of approximately 107 400 inhabitants each year.
The impact is felt on two levels. At the Municipality level, we underline:
Greater cooperation between decision makers and local stakeholders/partners;

Greater incorporation of local participation as a model for integrated municipal response;

A political consensus on the BIP/ZIP concept, methodology and results;

The creation of a new municipal department fully dedicated to Local Development.
At the Community Level, we underline:
More transparency and confidence in the public decision-making process;

More confidence in the municipality;

Increased interest in volunteerism and active participation;

Increased local partnerships / networks / cooperation to meet the own challenges;

Increased local organisation capability to promote initiative/response/change;

More efficient management of available resources (financial and non-financial);

A process of co-responsibility, with an extremely high level of appropriation and sense of belonging to the initiatives and results;

A mutual process (local administration/community) of accountability of the results;

A high rate of success measured through effectiveness and sustainability of the initiatives and actions.
Transferring the practice
After being awarded the URBACT Good Practice title, Lisbon was able to create the Com.Unity.Lab Transfer Network to which seven European cities (Bari Italy, Aalborg Denmark, Sofia Bulgaria, Ostrava Czech Republic, Lublin Poland, The Hague Netherlands, Lille Metropole France) were invited which were similarly facing the challenge of dealing with the problems in disadvantaged neighbourhoods. 
Equipped by URBACT with a toolkit, the cities could learn from each other. The transfer process was not one-sided, during the transnational meetings the existing practices of some of the transfer cities inspired Lisbon and contributed to the improvement of the Good Practice in the way described above.

In the course of the TN project also the original Good Practice is further improved. Regarding Mapping: a new framework is under development, based on the 2021 census, introducing an Urban Quality of Life Index, testing dynamic monitoring indicators, validating new indicators (COVID and post-pandemic). The map will be an online interactive map, it will show data from the entire city and not only the priority neighbourhoods.

Regarding Grants: the ambition in the coming year is to setup an upscaling version of the grant, which will help to develop the replication of positive projects in new neighbourhoods. Special attention will be paid to ensure that not always the same organisations access the grants as they have reached a higher level of professionalisation. 

There is a thinking going on regarding the co-funding quota which is extremely relevant to define the commitment, involvement and responsibilities of local partners. Whilst 100% funding is relevant for more cultural activities with no business model, a co-financing from local stakeholders can be a means to ensure the economic feasibility of entrepreneurial projects. Nevertheless the co-funding quota must take into consideration the fact that the business is taking place in a priority neighbourhood.