Using Alternative Funding Sources  will help you to explore other approaches to funding than public sector grant funding.
This task focuses on exploring a number of alternative options to fund projects when public sector funding is scarce. If your project has strong social, environmental and community oriented values and objectives, then alternative funding avenues might be a real option for you.
Also for projects that have a more economic focus and particularly for projects that have the ability to generate revenue income, such as the creation of a business centre, private sector funding (i.e. banking sector) and Financial Instruments could offer viable alternatives to public sector grant funding.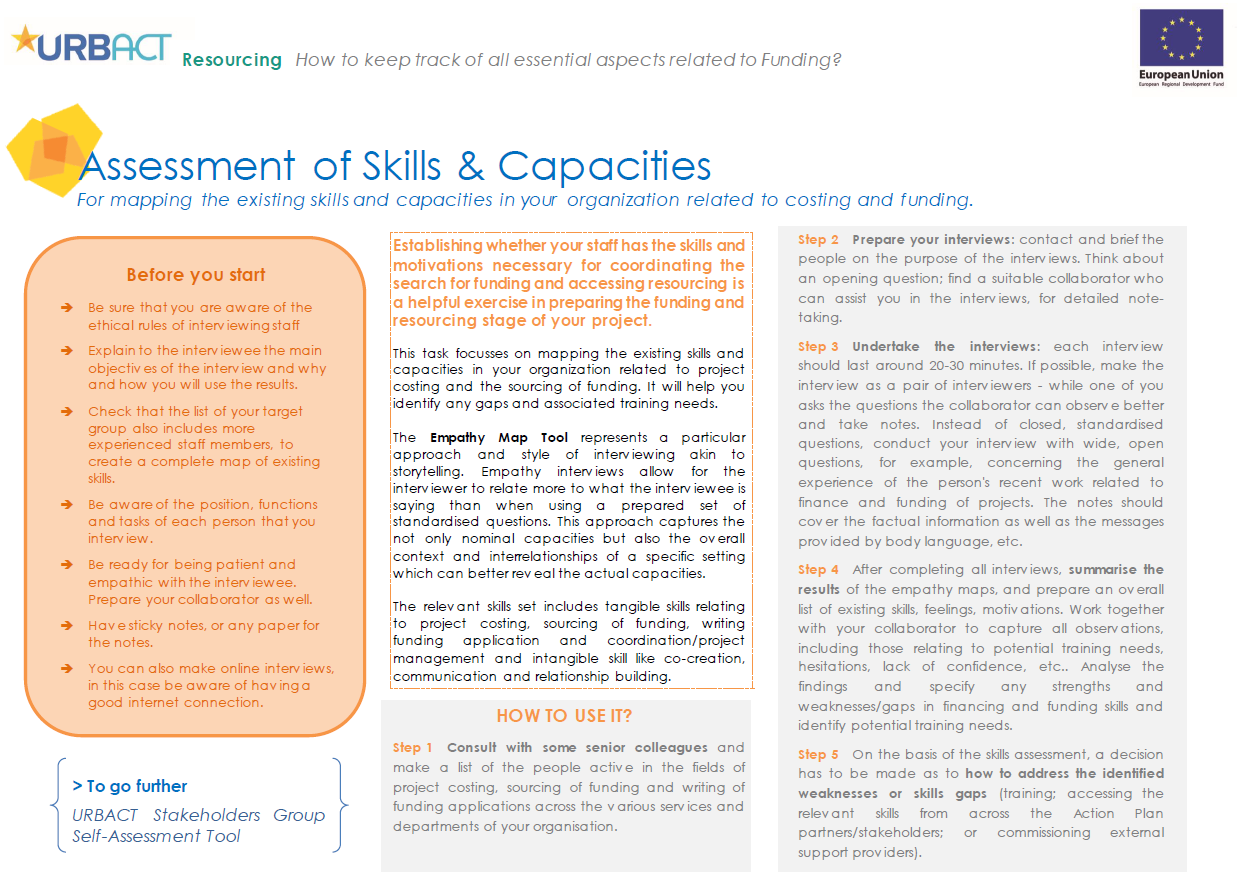 This is an information tool consisting of a list of alternative funding routes with hyperlinks to detailed material, guides and manuals for learning more about them.

 
Who is this tool for ?
When should the tool be used?

Funding Strategy Coordinator/Team

Project partner organisations

 

While in many cases people only look at alternatives when the conventional approach (public sector grant funding) has failed, it does make more sense to learn and consider new approaches from the outset of you plan and project development.
Click on the stations to navigate throught the Inventory line!
Key challenges of the step
Most third sector finance organisations, foundations, or community-based finance bodies require your project to have strong social, environmental and community purposes before they consider them for investment. If your project is not strong on these values, it might be more challenging to gain funding from these sources.
Other alternatives, such as crowdfunding, working with volunteers or setting up community chests, require you to gain some knowledge first, attending a training course perhaps, spending time learning and gaining know-how from other departments or cities, or commissioning a relevant external support provider.
If your organisation has not accessed alternative sources or used alternative approaches before, you will need to get your senior decision makers on-board. Apart from needing extra time to build know-how and capacities in these new skills, care needs to be taken not to raise expectations among citizen unduly.
Some alternative approaches, such as 'Community Chests' are projects in their own right, which will need time to develop to become operational. This could delay your project.
Main risks
There is no guarantee. Like with mainstream public sector funding sources, third sector and private sector funding are also competitive sources and you will have to compete for funding with other applicants. Your communication and application writing skills will need to be of high quality to be convincing.
Some of the new approaches involve intensive work with the community, a local authority might be concerned of the risk that the new approach might not be successful and would then cause a loss of reputation, image and trust among its citizens and partner organisations

.
Helpful tips
Attend information seminars, workshops, events etc. focusing on community-based projects and community / third sector funding to find out more and make contact to relevant people with experience.

Ensure that you have brought senior staff on-board who support the new funding approach of your project.

Ensure staff is trained in new approaches of funding projects (i.e. crowdfunding, community chests, working with volunteers, etc.), ideally bring staff on-board who are experienced.

Check with your legal team of your organisation what you can/cannot do (for example, volunteering is sometimes not possible due to health and safety regulations of the local authority). Draw on examples from other cities or organisations and learn how they managed to find solutions to these sort of issues.

If required, you might want to consider moving 'ownership/leadership' of the project to a partner organisation that is more suitable and eligible to access the alternative funding source.

Consult with colleagues, partner organisations, other cities, and your local community representatives to gather their experiences with more unusual ways of funding projects.

Use the internet to search for examples of similar type of projects or portals that identify different funding avenues. Use terms like 'fund raising', 'third sector finance', 'community chests', 'foundations', 'volunteering' etc. Don't forget to search the URBACT website 'Good Practices' and networks for inspiration and potentially finding contacts to consult in more detail.

If you have a solid project and business plan, where your project will generate returns, don't shy away from private finance, i.e. banks, particularly third sector finance organisations.