Standing at the starting line for URBACT IV, we wonder to what degree URBACT has helped cities to develop an integrated set of actions for sustainable change in the recent past. We asked city practitioners and leaders who participated in the last round of Action Planning Networks (2019 - 2022) about their integrated action-planning journeys – highlights, experiences, perceptions and suggestions for change. Here are the key findings and lessons for creating an even better fitting support environment for municipalities and partners seeking to take part in URBACT IV. 
Integrated action-planning for better urban futures is considered one of the strong pillars of the URBACT Programme. The main objective is to help city leaders, practitioners and stakeholders to develop plans and strategies that have the strong potential to make a positive difference in the future of local citizens and communities. The unique value proposition comes from its distinct approach to planning. URBACT namely creates a conducive framework and provides proven tools to mobilise strong horizontally linked local partnership coalitions geared up to tackle important or novel local challenges.
Grounded in principles of integration, participation, action-learning and transnational exchange, many European cities have over the years evidently benefited from this soft and relational instrument of the Cohesion Policy. Let's take a look back at the experience from our last 23 networks that concluded their work last year and check how well URBACT has actually helped our cities to deliver high-quality sustainable local strategies, the Integrated Action Plans.
Taking stock: tracking and analysing local URBACT journeys
Let us zoom-in by posing a simple starter question: why should European municipalities join URBACT? The figure to the right gives some convincing answers.
Following a closure survey, the former beneficiaries cited the attraction of a relevant, interesting and appealing topic as the top priority when deciding to participate in an Action Planning Network. Involvement has also been incentivised by the prospect of transnational co-learning for advancing local processes and practices. Without doubt, becoming an URBACT Lead Partner or Project Partner is not primarily about the money, but about learning together how to best tackle local challenges by means of cross-border exchange of useful knowledge, good practices and fitting processes.
But what actually drives URBACT locally? Certainly, the heart, soul and engine of the URBACT project is the URBACT Local Group. This grouping brings together dedicated and influential city leaders and different stakeholders in an effective and fit-for-purpose project setting. It's the leadership, structure and governance of this entity that – combined – chiefly impacts on project performance and progress. One of the most challenging tasks in this matter is maintaining the active involvement of local stakeholders, especially after the initial high-intensity engagement phase. Concerning long-term success, it's the continuation of a Local Group-like structure after the official project funding period is over, and a trust-based, synergetic relationship with the municipality that seems to matter the most.
Solid action-planning, ultimately, is about both the process and the output. The ultimate output of the almost three-year long URBACT journey is the local Integrated Action Plan, which is co-designed by each Project Partner with their respective URBACT Local Groups. This document summarises the planned future actions in the chosen intervention field. The survey respondents were asked about the relative importance of the corresponding planning steps. Most significance has been assigned to the task of clearly defining actions, followed by accurate problem definition, setting the right objectives and creating a commonly shared vision. Put differently, having a sense of direction and a clear focus appear to distinguish the Integrated Action Plans that can make a real difference from those that become more easily side-lined, watered down or even forgotten. 
The past round of networks has counted with a novelty: the possibility of running testing actions, also known as small scale actions. This is an occasion for cities to experiment new approaches and practices, and feed lessons immediately into their Integrated Action Plans. So how well have project teams embraced this opportunity and successfully incorporated this testing dynamic into the action-planning journey? Findings are positive as say two thirds of respondents claimed very good and good integration outcomes, which validates the relevance of these pilots and justifies further in-detail refinement.
While URBACT provides Action Planning Networks with a safe space for soft interventions, without adequate resources, well-designed strategies often underperform during implementation. Resourcing provides the fuel for positive local change. Project Partners, asked about the relative importance of various funding sources, which highlighted the significance of public funding – be it from municipalities, national governments or European institutions. In contrast, private financial support and crowdfunding are less important, confirming the fact that URBACT is mainly a public service and common good-oriented programme. Yet, resourcing is not just about financing. In the summary, most action Planning Networks associated resourcing mechanisms to human resourcing as the number one priority, followed by funding and knowledge.
At last, to take stock of the networks' experience, projects are often assessed against their change impact. For URBACT cities, impact can take many forms. Prompted to rate different dimensions of the overall outcomes, Project Partners saw as most beneficial the improvement of understanding in certain topics. Almost as important has been the increased cooperation at European level, followed by the opportunity to pilot new practices and approaches as well as stakeholder relationship building.
Still according to the survey, for structural change institutional capacity building is foundational. Here the largest improvement has been achieved in the area of transnational – local knowledge exchange, followed by action-learning. Noteworthy improvements occurred across the board (see the image below). Clearly the proven URBACT-formula once again bore good fruit.  A defining feature of the recent years has been the deeply felt disruption of the Covid-19 pandemic. It caused significant challenges for the whole URBACT community, but also forced local teams to re-prioritise goals and adapt traditional work styles. The open responses confirmed the formidable impact on stakeholder engagement and a rapid shift to online communication and coordination, even with review of original objectives and plans.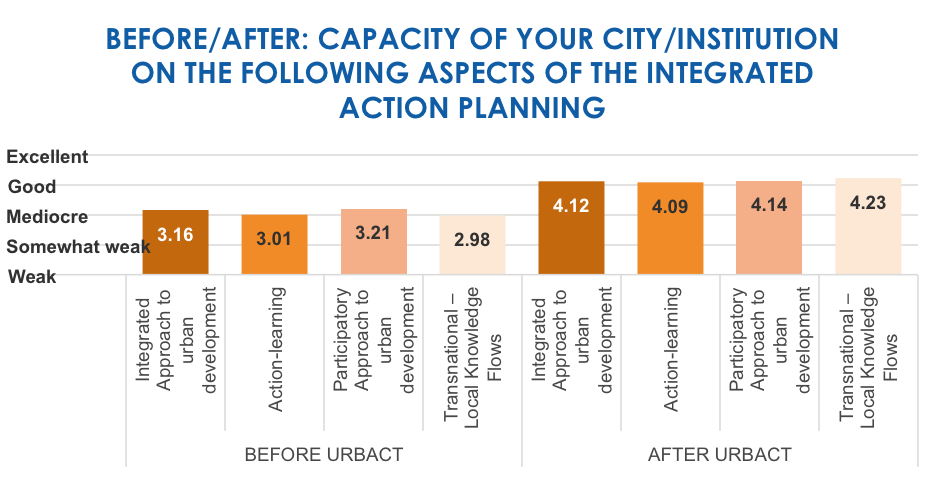 Overall, the URBACT Secretariat and the networks proved to be resilient and adaptative under these trying circumstances. During their journeys, cities are never left on their own. In fact, the URBACT support infrastructure, tools and methods are considered one of the great benefits of the programme. Leaders and practitioners validated the exceptional support role of URBACT as 84% of survey respondents stated strong and quite strong support. This feedback demonstrates that the dedication and efforts of the URBACT Secretariat clearly pays off.
Moreover, besides sound programmatic and methodological support it has been soft characteristics such as friendliness and approachability that have received special praise. There is an informal truth that the URBACT ecosystem constitutes more of a family than any other European programme. The 2022 Action Planning Networks closure survey powerfully validates this point. 
Looking ahead: what's in for future Action Planning Networks' cities
The survey unpacks the added value URBACT has provided to policy making and urban practice in cities. Three messages stand out. First, URBACT projects chiefly leave a local mark, for example the active consolidation of a particular administrative approach or a highly visible inner-city event. Second, URBACT-processes and support may foster beneficial personal development and skill acquisition, for example on digital skills and in leadership areas. Third, co-learning opens new spaces for better understanding the world, and our agency in the world. The essence of the added value may be defined as structured peer learning in pan-European trusted relationships.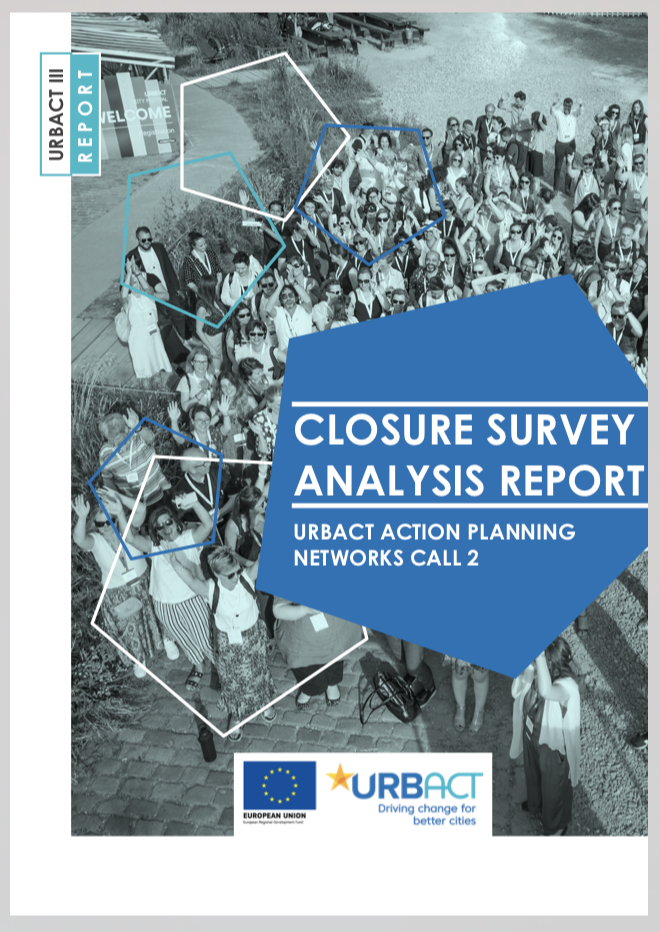 Another finding puts the spotlight on which types of cities – from an income and population perspective – gains the most from the action-planning experience. It was found that local expectations were better met in less developed regions than in more developed regions. Quite fascinatingly, it is the smaller cities (up to 100 000 inhabitants) that seem to do best in relation to meeting and exceeding project expectations. Regardless of size and other circumstances, as it was previously mentioned, cities aspire to join the URBACT community predominantly because of a distinct policy theme or topic that resonates with their current needs, ambitions and/or policy priorities. The current call for Action Planning Networks encourages the mobilisation of the topics that particularly matter for lasting local impact.
Crosscutting themes that can support sustainable impact – such as diversity, inclusion and equity, climate-safety and health as well as resilience are no-brainers in this regard.  Yet, the trademark of URBACT remains its bottom-up approach, which allows cities to choose whichever urban matter or challenge it's deemed relevant for their proposals and future networks. The same applies to the URBACT IV crosscutting priorities – green, gender and digital – which shall be taken into account in a holistic way, without compromising the original intent of prospective Action Planning Networks. From a methodological perspective, the programme will carry out its proven URBACT-principles for improving urban policy and practice.
Guided by the foundational values of integration, participation and hands-on action-learning – the so called URBACT Method – hundreds of European cities have seen local advances and win-win outcomes for almost twenty years now. These principles will matter even more in times of vexed multi-crisis challenges. These normative and practical reference points have the potential to continually unlock local pathways to reach better outcomes by encouraging strategic co-learning, by stimulating path-finding experimentation as well as boosting shared capacity-building across the transnational-local transmission points. URBACT-principles and associated tools have repeatedly shown their potential to inform positive local transformation. Let us build on this.
Before anything, an honest appraisal of URBACT Action Planning cannot be conducted without tackling the thorny issue of what holds participating cities back. Put differently, what are the persistent barriers for URBACT-project success. Critical feedback was received from many angles, for example, on the difficulty of meaningfully combining the communication with citizens AND companies. Another point that was raised is how URBACT Local Group leaders can be easily overloaded with work and expectations and a – surely familiar – issue to all of us is the stifling shortage of human resources. 
In response, future Action Planning Networks will be guided by new thinking on stakeholder engagement, notably using different capacity-building events and materials, better aligning resources and the local and transnational levels. Most importantly, the post-pandemic era calls for creative hybrid forms of communication and coordination, work modes that combine physical and digital exchange. We need in-presence meetings for trust, depth and motivation. And we need digital meetings for efficiency, scale and novelty. Let us co-design effective engagement formats for times where carbon footprint reduction is pivotal for sustainable futures.
Redesigned engagement and co-learning processes should – even more than previously – help to 'break-up' institutional and organisational silos. As horizontal integration is both greatest URBACT-benefit and hardest task for local actors let us more strategically foster cooperation across different policy areas and departments in participating cities.  For an unpredictable future, Integrated Action Planning needs to pay much greater attention to building resilience. Central tasks are managing risks and designing prevention and mitigation measures. Three risk types deserve particular attention.
Political and prioritisation risks are about foreseeing and responding to changing political and administrative agendas that may not align well with URBACT-interventions. Financial risks surround every resource allocation decision, yet URBACT-tools on resourcing may help to circumvent negative surprises; finally, we are forced to respond creatively to human resource and skills shortages that often stand in the way of implementing well-meant strategies and plans. Surely, no responsible public steering can afford to ignore the unsettling "worst-case scenarios" and "what if" questions. Still, some of the risks can be spotted ahead of time.
Finally, the next round of Action Planning Networks – and more broadly, the URBACT IV Programme – will be informed by three related dimensions that evidently underwrite local success. On a normative and policy level, the objective remains to foreground further the relational qualities that evidently achieve synergetic change and transformation: dialogue, cooperation and trust-building. On a thematic level, the overarching angles for cities to decrease their carbon emissions, take the leap towards the digital transition and reinforce gender equality will be further mainstreamed. This shall support the alignment of the programme's objectives with future local strategies. At last, on a legal, procedural and practical level let us explore the full possibilities of municipal procurement as key strategy that directly and strategically influences local futures. After all, this bundle of aspirations may be pivotal for switching local and regional pathways in Europe from "challenge to opportunity".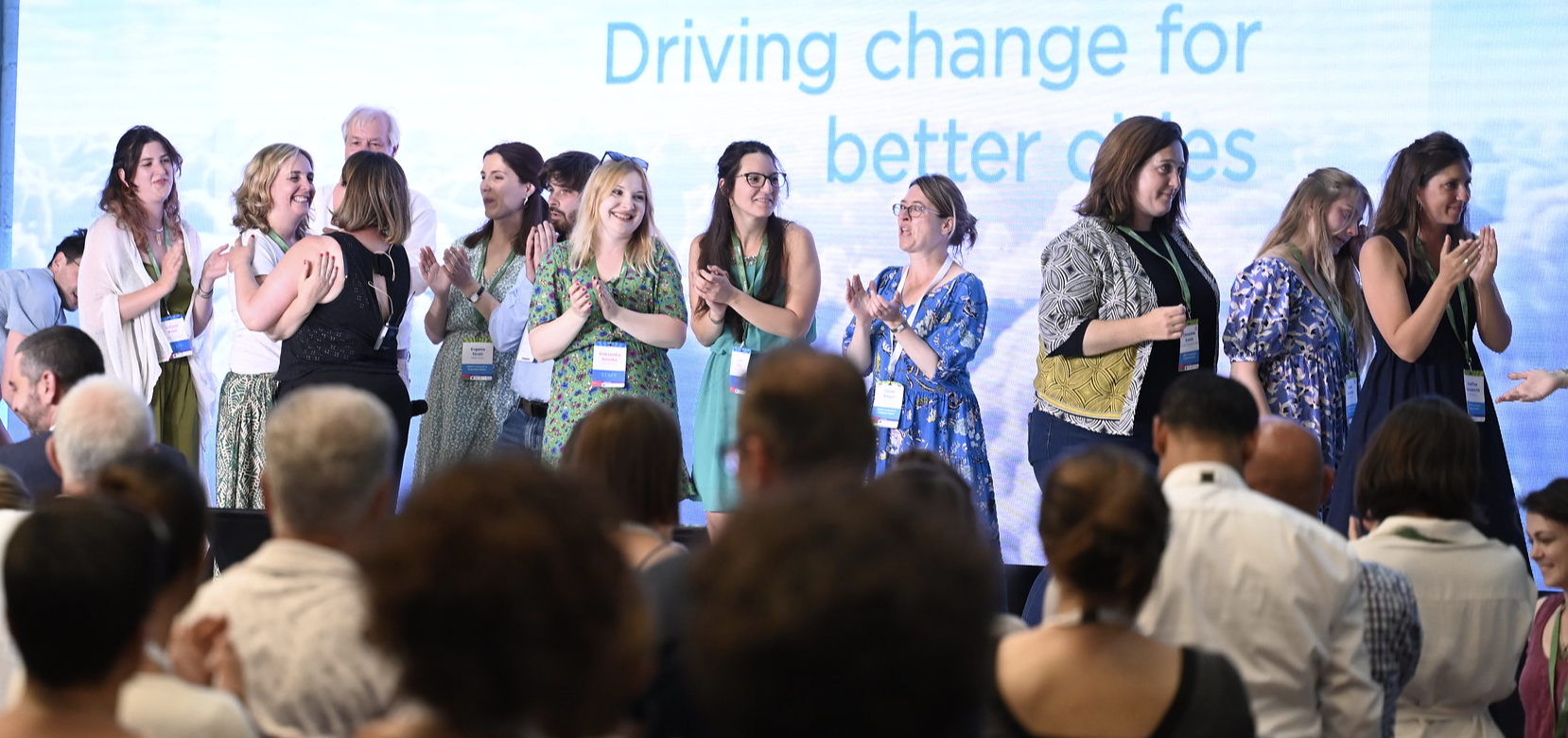 Continually adding value and building local legacies
While this present article provides a stock-take from within participating Action Planning Networks by confronting the question of how well the latest cohort of URBACT cities – from their own perspective – travelled the path of the action-planning cycle, other studies on the local Integrated Action Plans and small scale actions are on the making. All these material will also feed the journey of the next round of Action Planning Networks (2022 – 2024). Interesting findings allow informed judgements to make about what went well and where future actions and processes can be improved.
The unforeseen disruptor of the Covid-19 pandemic has left a strong mark on local and transnational engagement, yet our networks showed great ingenuity and developed robust resilience in their Action Planning efforts in the past years. Today, we wish them all the best for keeping momentum during implementation of their local Integrated Action Plans, and hope that they can build a positive legacy like so many cities before. 
URBACT IV welcomed a new wave of motivated cities forming Action Planning Networks who have started their journey. Get to know them here and stay tuned for their results! 
---