How can we create great places in our cities? How can we make public spaces that are more dynamic, inclusive and safe? How can we develop community-led projects to make our neighbourhoods, squares and streets more liveable? The answer to all of these questions is: placemaking. During Placemaking Week Europe 2019, which took place June 12th to 15th at La Marina València, we explored ways to improve public spaces through collaborative design processes.
Specifically, the Spanish National URBACT Point, in collaboration with our Italian counterparts, organised the workshop titled "From Placemaking to Citymaking" which focused on how URBACT networks and cities like Igualada (ES), San Donà di Piave (IT), San Sebastian (ES) and Medina del Campo (ES), all of which are boosting placemaking policies and improving public spaces. During that session we had the opportunity to dive deep into the lessons learned in RetaiLink and CityCentreDoctor URBACT Action Planning Networks, the Gender Equal Cities initiative and the PAM! project.
Now, we bring you the five most relevant lessons we learned there.
1. Develop effective participation through rigorous methodologies
Placemaking is about building sustainable and creative places, strengthening communities and including diversity. The use of rigorous participatory methodologies is essential in order to obtain success in placemaking. Therefore, cities need to develop participation processes that are inclusive and top-notch. And of course, the results must be binding. A truly relevant participation process requires technical expertise and capacities for citizen's engagement, as well as, means for communication. This implies establishing a wide range of participatory channels and spaces, from personal interviews with stakeholders to large public events. Moreover, defining an accompaniment strategy is essential for success.
But, all these elements are worthless without a proper institutional framework and a clear political commitment. Local government representatives and civil servants must believe in citizen participation. If they don't, the risk is that the old-fashioned ways of creating public spaces, with their characteristically closed and hierarchical apparatus, will kick in.
2. Include a gender perspective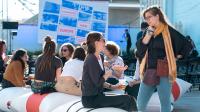 The placemaking process that includes a gender equality perspective supports a more democratic practice to create safer, more inclusive and diverse public spaces. In this sense URBACT's Gender Equal Cities initiative, coordinated by Sally Kneeshaw, who presented the URBACT programme during the workshop, shines a light on how cities are boosting profound changes through gender perspective. The report released in March offers a comprehensive analysis on how important it is to include transversal gender perspective in urban policies.
In fact, the gender intersectional perspective also helps us to take into account other outlooks that can help to design superior public spaces. For example, in addition to paying attention to a gender perspective in order to create better equality in urban planning, the viewpoints shared by a diversity in age, socio-economical status, place of origin, and cultural diversity also enhance the placemaking process.
3. Implement strategic planning
As URBACT networks plentifully prove, integrated and participatory urban planning is the best way to start solving the problems of our cities. Placemaking also requires solid and strategic planning that combines long-term objectives (how do we want this place to be in the future?) with short-term actions (which quick wins can we reach easily?). But having a plan will not automatically solve the problems. It is just a first step in a long and exciting journey. After the plan, comes the implementation. In order to make our plan a reality, we need a time-line and of course, money. So, bear in mind, do not start designing a plan without foreseeing a specific budget to execute all of the proposed projects as well as to monitor and evaluate their implementation.
4. Secure technical and political commitment and social support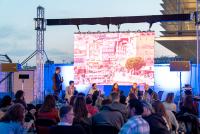 The key to securing wide-ranging social support rests on the involvement of stakeholders from the very start of the process and generating a solid atmosphere of trust and transparency. Without the community's endorsement, it is extremely difficult for plans and projects to come to fruition. A committed, coordinated and responsible political agenda is fundamental, as well. It is important to set a clear and transparent working framework, define and communicate the legal limits, establishing who is responsible for the project, and to generate relationships of trust between the different stakeholders. But this is only possible with an attitude of empathy, an enormous desire to listen and understand other points of view, and a lot of talking and informal chats. And, of course, we must develop a close and reliable relationship with participants. Whatever we say or promise must be true and deliverable. Never create unreasonable expectations!
5. Adopt co-innovation, co-creation and co-governance
In order to design good placemaking plans and projects, adapted to the specific needs of a community, we must work through a transdisciplinary and multilevel perspective. But our approach to urban policy design must also be both horizontal and collaborative, enhancing bottom-up processes that gather citizens and relevant stakeholders. Moreover, it is crucial to share experiences, knowledge, learnings, achievements and frustrations to build up together innovative solutions and new management, monitoring and implementation procedures. All these elements lead us to collaborate, build successful placemaking projects and define new urban governance based on citizen co-responsibility.
Come and join the co-urban revolution!
More on URBACT Channels: From Placemaking to Placekeeping? and Gender Equality and Placemaking
***
BONUS TRACK
Placemaking is one of the most powerful tools that sustainable urban development relies on to improve our cities and public spaces. So, keep in mind, if there is something strange in your neighbourhood… who are you going to call ? Placemakers!