CARD4ALL is a Transfer network focused on the implementation of innovative services and technologies through a Citizen Card System. Cities can gather information to improve their services and use it for participative processes. It can be applied to promote social inclusion, local trade, urban mobility and sustainable living, thus creating a Smart City with Smart Citizens. The technology used allows the transferability and replication in different contexts.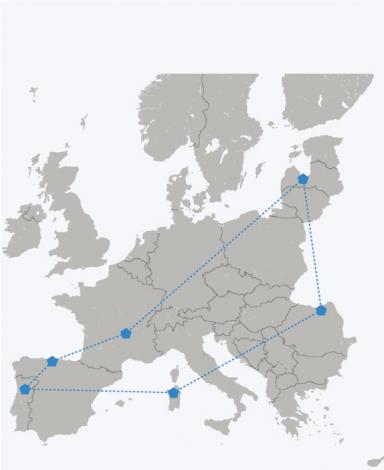 The Intercultural cities programme (ICC) supports cities in reviewing their policies through an intercultural lens and developing comprehensive intercultural strategies to help them manage diversity positively and realise the diversity advantage.
Amadora launches a Guide on the welcoming of migrants
Timeline
Phase 2: Transfer Learning Period. Experiential Learning Stage. Transnational meetings: Antwerp, Suceava, Sassari and Clermont-Ferrand
Phase 1: Kick-off meeting: Jurmala and Transnational Conference: Gijón
Phase 2: Transfer Learning Period. Reflective Learning Stage.
Phase 2: Sharing Period. Contextual Support for Learning. Transnational Meeting: Jurmala. Exchange and Learning Seminar: Aveiro and Final Conference: Gijón
Municipality of Athienou
2, Archbishop Makarios III Ave.
7600 Athienou Cyprus
Municipality of Santiago de Compostela
Municipality of Udine (Italy)
For any enquires into Tech Revolution, email: DMC@Barnsley.gov.uk

Keep following our social media channels as we develop Tech Revolution 2.0 as part of the second wave of URBACT ||| Programme. 
Follow our Twitter: @Tech_RevEu
Follow our Linkedin: https://www.linkedin.com/company/urbact-techrevolution/
Coordinator
ADDRESS
Av. Movimento das Forças Armadas
2700-595 Amadora
Portugal 
TELEPHONE
+351 21 436 9000
Ext. 1801
City of Rome
tamara.lucarelli@comune.roma.it
Department of European Funds and Innovation
Via Palazzo di Città, 1 - 10121 Turin (Italy)
Câmara Municipal de Lisboa
Departamento de Desenvolvimento Local
Edifício Municipal, Campo Grande nº25, 6ºE | 1749 -099 Lisboa
urbact.civicestate@gmail.com
Laura González Méndez. Project coordinator.
Gijón City Council