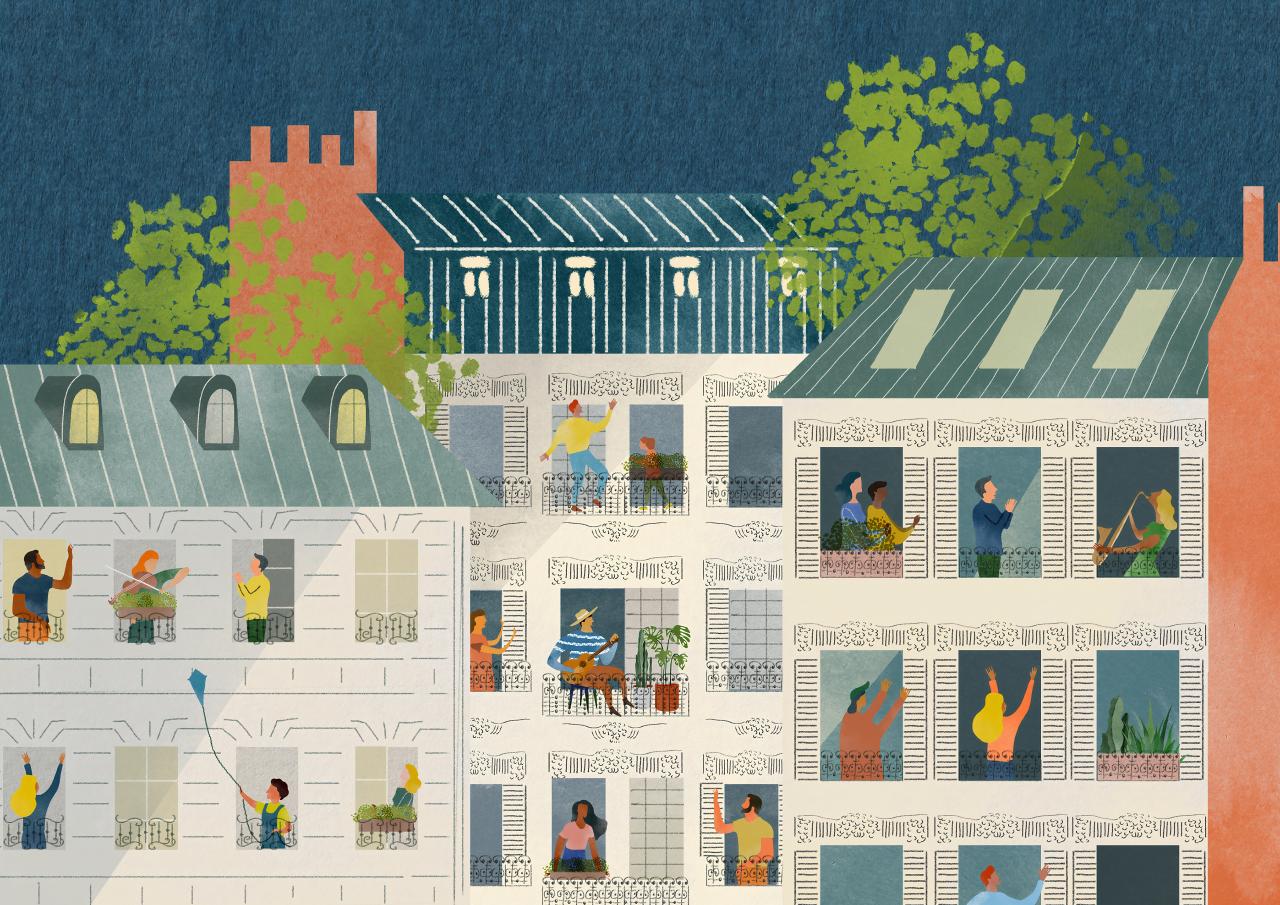 Stakeholder engagement, cross-sectoral cooperation, integrated planning – an URBACT recipe for resilience!
Cities have been using agility, creativity and community spirit to respond to the challenges of Covid-19. Here, we share stories from some of URBACT's smaller municipalities, where helping residents and businesses through the crisis goes hand-in-hand with sustainable integrated urban development.
With most of Europe's urban population living in communities of under 100,000 inhabitants, these towns and cities are strongly represented in URBACT networks, some working alongside major metropolises. "If we want small cities to be resilient, they're going to have to develop confidence and capacity – and that's where URBACT comes in," says Wessel Badenhorst, Lead Expert for the URBACT iPlace network. And what a year to put that resilience to the test.
Covid-19 challenges for small cities
Although small cities generally record lower infection rates than their bigger neighbours, the pandemic has exacerbated the economic challenges they were already facing. The burdens of empty town centres, lack of economic mobility, and isolated, ageing populations have worsened, while trading conditions for small and medium enterprises have also been hit by public health measures. Smaller cities whose economies rely predominantly on one activity such as tourism, hospitality, transport or logistics are particularly vulnerable.
To find out how smaller URBACT cities have been surviving Covid-19, we contacted council staff, elected representatives, local group leaders and urban experts in eight EU countries. We discovered significant variations in the impacts of the pandemic – and city reactions – not just due to infection rates, public health measures or budgets, but to a multitude of factors, from economic diversity and main industry to local politics, demographics and geographical location. Levels of digitalisation and integration of local services also affect how each city copes with the crisis.
Despite these differences, four key URBACT principles shine through cities' Coronavirus responses.
1. Stakeholder and community engagement
Positive relations with citizens and stakeholders have been helping smaller municipalities coordinate responses – a factor strengthened by URBACT Local Groups (ULG). "On one side smaller cities have fewer resources to face this situation. But on the other side, since the community is not as big, it's easier to get in touch with the stakeholders," said Daniel Castejón Llorach, from Igualada (ES), whose pandemic experiences we share here.
Community actions have grown in 2020, boosting the "feeling of belonging to our town," says Alicia Valle, City Council Manager, Viladecans (ES), a change she hopes will last. "Citizens' solidarity was awakened and we showed the capacity to help and find solidarity with others in situations where we really needed each other." Initiatives include volunteers supporting older residents, businesses donating equipment, and employment schemes for disinfecting playgrounds. In Fundão (PT), for example, the Professional School joined the Centre for Migration and 30 volunteers to produce masks using donated material.
Smaller councils say good relations with local businesses help provide information, connections and communications support. In the coastal university town of Halmstad (SE), Chief of Staff Anna Wallefors says this has supported "very agile" smaller manufacturers shifting to products such as PPE, hand gel – even Covid-themed t-shirts. Despite this, she says "we've been hit hard – it impacts everyone"; unemployment rose from 4-5% to 8-10%. In industrial Gabrovo (BG), where a strong manufacturing base means the economy is not slowing, the city tracked the health of 55 local companies in an online survey, anticipating future employment.
Halmstad is a port city on the Swedish coast with around 100,000 inhabitants – and member of OnBoard network.
Examples of sustainable community responses also include creative outdoor events and active travel in Mantua (IT). Meanwhile, a host of city-run websites linking consumers and producers look set to continue promoting local business while reducing carbon footprints. Medina del Campo's (ES) eCommerce site 'Medina Shopping' has boomed during the pandemic. Viana do Castelo's (PT) centralised platform 'Viana Market' features over 100 retailers, one of many Covid-19 initiatives developed with the agricultural cooperative, local business and digital economy groups.
UBRACT provides a structure and methodology for such stakeholder involvement. For example, in Viladecans, after initial lockdowns in the spring of 2020 the URBACT Local Group met online to plan a response to new education needs. As a result, ULG members – from schools, families, companies, universities and the city's Educational Innovation Network – started to define an initiative to provide ICT training and support to teachers and families. Viladecans has inspired other cities in the URBACT On Board network to explore similar participative approaches. Schools in Halmstad now involve parents, businesses, sports clubs, something the city's OnBoard coordinator Jonas Åberg says "normally wouldn't happen at all".
2. Cooperation across sectors and levels of government
The sort of close links that URBACT encourages between sectors and municipal departments, and with other bodies at local, regional and national levels, are vital to small city resilience. Anna Wallefors says strong cooperation is central to Halmstad's response, with neighbouring municipalities, the healthcare system, and many local bodies. With just six municipalities in the region, and 10 000 municipal staff, "it's easier to work together". 
The regional hospital city of Viladecans relies on "good coordination with the sanitary facilities responsible for managing the pandemic," says Alicia Valle. The council coordinated a transversal work group including a Viladecans City Council steering group and representatives from the hospital and five geriatric centres. "The evolution of the pandemic was monitored and solutions were sought in addition to sharing protocols and what messages should be spread among citizens." A similar joint working group for school safety includes people from primary health care centres, the council's Education department and school educational teams. 
Viladecans is a service-based town of around 67,000 residents located 15 km from Barcelona and is Lead Partner of OnBoard.
Meanwhile, in the agricultural Jelgava Local Municipality (LV), Deputy Head of Development Anita Škutāne says: "We use a cross-sectoral approach in our everyday life in the municipality as it proves that you can achieve the result easier and faster when many interested parties or stakeholders come together and look for solutions." This has underpinned their response to the pandemic, with actions ranging from increased social support, food-package deliveries, and re-employment of cultural workers, to renovating public buildings and spaces while access is restricted.
3. Learning from other cities – URBACT transnational exchanges
"There's one place where small European cities feel comfortable and where they can learn from each other – and that's URBACT," says URBACT Lead Expert Mireia Sanabria. "There are very few other programmes where they can be on a par with bigger cities."
Most cities in URBACT networks have been able to stay connected during the pandemic, moving their meetings online. Spanning six countries, the URBACT Card4All network's smart city project promoting digital 'citizen cards', is particularly timely. Caterina Fresu, Municipality of Sassari (Sardinia, IT) says her city's online services are improving as a result: "Through the URBACT programme we had the opportunity to confront our colleagues in partner cities almost every week, sharing problems and solutions and finding common ground. Without this frequent sharing we would certainly have felt more alone in facing an unknown and unpredictable challenge." Jurmala (LV), for example, shared how their municipality's citizen card enabled a valuable analysis of public transport use during Covid-19. "Although still in an initial study phase, thanks to Card4all, during the lockdown important steps have been made in activating digital services for citizens in Sassari," concludes Catarina Fresu.
"The most powerful thing is for people to stay together and overcome challenges together," says Gabrovo municipality's Desislava Koleva. With iPlace city partners, Gabrovo explored how to support vitality and re-open economies post-Covid. In Amarante (PT), iPlace project manager and InvestAmarante director Tiago Ferreira says: "Those discussions enriched all the participants. We felt lucky to have this opportunity to share ideas and access a network of support." Amarante's small size was "a big advantage" in terms of health. Tourists came back "very fast" in the summer and economic clusters such as metalwork, woodwork and construction remained open.
Amarante is a historic city of around 56,000 inhabitants in northern Portugal - and Lead Partner of iPlace.
URBACT's transnational exchanges are also boosting resilience in Medina del Campo (ES). "Not only thanks to the experience and knowledge of partner cities – which is always helpful," says ULG coordinator Juan González Pariente, "but thanks to networks with some of these cities which can help Medina to find new employment niches and resources." For instance, URBACT CityCentreDoctor network led to synergies between Medina del Campo and Amarante's wine industry, creating new economic opportunities and lasting support.
OnBoard partners agree. In Viladecans, Sara Cerezo, OnBoard project support, says: "Sharing experiences with URBACT partner cities has been truly useful and interesting. Each city had a different approach and different actions." And for Jonas Åberg of Halmstad, "staying regularly in touch with the URBACT partners, sharing experiences and tips, in online meetings has been really helpful throughout the crisis."
4. The power of integrated sustainable planning
URBACT improves cities' capacities to build sustainable Integrated Action Plans (IAPs) – boosting resilience to face unexpected challenges (see Igualada, for example). While some smaller cities have accelerated these plans to strengthen their Coronavirus response, others have been less lucky. Hoogeveen (NL) was reviving its town centre with local stakeholders, thanks to an Integrated Action Plan built with the URBACT RetaiLink network (2016-2018). Without the funds – or political support – to accelerate the plan during Covid-19, branding and public space improvements were cut, and about 15 central retailers shut: 50 shops now stand empty.
But there are many positive stories: Vic (ES) accelerated municipal measures to promote health and wellbeing while supporting the local economy. This included the "Vic city 30" programme to calm traffic, set a 30km/h speed limit and promote sustainable alternatives like walking, cycling and public transport. The city now restricts motorised weekend traffic on main streets. "This measure responds to the need to be able to guarantee social distance, but also to the desire to move towards a more sustainable and healthy city, which gives priority to active travel," says Marta Rofin Serra, architect in urban planning for Vic municipality, and URBACT Healthy Cities Project Coordinator. Vic has also extended and improved cycle lanes, and expanded pavements.
Meanwhile, Gabrovo "is very optimistic," says Desislava Koleva. With 29% of residents over 65, one long-term strategy has been to attract younger people to the city – a trend that has accelerated during the pandemic. "Young people in Bulgaria, mostly living in Sofia, have been coming back to their native cities. Young families have started to buy houses in the villages surrounding Gabrovo. So we will need to build new infrastructure and attractions." New to URBACT, Gabrovo is finding the iPlace network a particularly useful source of learning and benchmarking with other cities.

Gabrovo is an industrial town of around 62,000 people located near the Balkan Mountains in central Bulgaria - and member of the iPlace network.
Future hopes 
For many smaller cities, though times are tough, Covid-19 has sparked lasting positive change. "The bad outcomes of the pandemic will force everyone to change the way we work or we worked so far," says Juan González Pariente in Medina. Sassari's council has recognised the importance of digitisation, training, and distance-working technology. Caterina Fresu hopes that "the emergency may turn into an opportunity to start the transformation of Sassari into a Smart City."
Cities have also seen the value of clean air and healthy lifestyles. "If there's one good thing that has come out of the Covid crisis, it's the environmental improvements such as reduced traffic, cleaner air," says Mantua Deputy Mayor Adriana Nepote. "We need to be resilient not as individuals but as European citizens. We need to implement the idea of community and being more generous, and then we need to learn – this could be considered a great opportunity for all of us to implement and develop new ways of living."
Overall, says URBACT Expert Mireia Sanabria: "Although it's still too soon to prove just how instrumental URBACT has been, those cities that have been involved in URBACT projects, and have used the methodology and incorporated this way of working, have probably reacted better during the pandemic. If the public administration has these capacitated teams, if it has the flexibility and the technology to react in these situations, it makes a big difference."
URBACT will continue to support cities of all sizes, working closely with the programme's 23 Action Planning Networks over the next two years. Does your city have experiences to share? Let us know!
Further reading
Other Covid-19 related articles include a snapshot of URBACT cities' early reactions, as well as how urban poverty, gender equality, climate – and the new Leipzig Charter – have been impacted. We've shone light on improving resilience in tourist towns, visited a hard-hit Catalan city, and explored Covid-19 responses that support food solidarity and mental and physical wellbeing.