URBACT cities and networks have been very active in the development of innovative approaches and solutions when it comes to public procurement and gender-sensitive responses. Their practical insights and experience are told in the different modules of the Strategic Public Procurement Online Course. Some municipalities have also taken advantage of it to re-think the ways we produce, distribute and consume food. Read on to see how cities are taking matters into their own hands.
Food Public Procurement: what and why?
Food procurement relates to the provisioning of food, via catering services (with or without supply), canteens, and vending machines. It targets the public sector and sectors managed by public authorities: school and childcare centres, health and welfare centres (including hospitals), senior or retirement homes, and public administrations.
Paying attention to the way this food is purchased by public authorities is crucial.  The overall environmental impact of the food system is undeniable: it contributes to 1/3 of GHG emissions globally and drive up socio-economic and health inequalities. In addition, within the agricultural sector in Europe, livestock farming is responsible for 78% of biodiversity loss and 81% of global warming. Food waste of the catering sector is also estimated to account for 14% of all EU waste, accounting for almost 12.5 million tonnes. Energy produced effectively by the catering sector could, for example, achieve savings of more than 20% leading to a saving of EUR 95 million (80 million GBP) per year and reducing national energy consumption by over 4 000 million kWh per year.
In terms of economic impact, the current food system sustains unfair working conditions practices for farmers and their respective difficult to access land and to sustainable production. Not to mention the working conditions of migrant workers. With regards to the fact that, on average, 85 million meals are catered every day in the EU (over 50% through contract catering), and that there are about 3.7 million vending machines in Europe that are run by around 10 000 different companies (mostly SMEs and family businesses that employ directly more than 85 000 people and many more in supportive industries), sustainable food procurement in public institutions provides an enormous potential to push market demand for greener products.
In terms of social and health-related impact, the current mainstream food system has led to a higher risk for disease and mortality in Europe: unhealthy diets are responsible for 49% of cardiovascular diseases, with an estimated annual cost of EUR102 billion for health systems and society; and with 16-22% of EU school-age children are overweight, 1/4 of them are obese. Last but not least, 36.2 million people, including children, cannot afford a quality meal every second day, which could be compensated by healthy school meals to a certain extent.
As such, using food procurement strategically can impact the whole society directly. First by promoting the purchase of certified (ideally organic) products, seasonal products, reducing the called "food miles", and reducing packaging and food waste. Procurement can lower pesticides and antibiotic residues in food air and water pollution and greenhouse emissions. Then by promoting the purchase of certified (ideally fair trade) local products. Procurement can support the fair retribution of producers, boost local economy and employment, supporting local entrepreneurship and innovation, increase or convert organic production. And finally, by promoting the purchase of sustainable products and healthy meals and raising awareness. Procurement can contribute to the reduction of obesity, health problems, boast local communities' prosperity and wellbeing.
The EU Framework for Sustainable Food Procurement
When addressing food procurement, the first strategic frameworks which come to mind are those related to the EU (green) Public Procurement: the EU public procurement directive, the EU Green Public Procurement criteria, the Communication on public procurement for a better environment, Public Procurement for a Circular Economy. Good practice and guidance, and the  Food & catering – GPP Product Sheet.
Yet, Food Procurement can also rely on a range of other EU initiatives, to further develop innovative solutions:
Key URBACT cities' solutions
Some URBACT cities have been exemplary in seeking to identify practical solutions for the transition of their food procurement processes. Below some city cases:
Engaging users and the market in Liège
The city of Liège (BE), partner in the BIOCANTEENS#2 Transfer Network developed a strong knowledge of their local producers, while adapting the needs of their local canteens to their local offer. The city starts all its tendering processes by an analysis of the needs with the food users, such as canteens managers and cooks: products used, their quantities, frequencies and other relevant factors. The research then focuses on local producers and enterprises that could potentially respond to these needs, leading to drafting specifications corresponding to both needs and offer.
Market engagement also enables the city to build the capacity of the market to meet their requirement(s), inform on the design of the procurement and contract, and help suppliers to submit quality bids. This process also tests the maturity of the market, the feasibility of the procurement, the level of technical and product innovation, the type of exiting composition and the concern about sustainability. Once the city is certain that producers can deliver healthy and diversified meals, the tenders integrate a new selection criteria.
It is important to note that market engagement is legally possible under Article 40 of Directive 2014/24/EU, provided that legal consideration are taken into consideration, as transparent and non-discriminatory process, not providing unfair advantage, keeping a record of all market engagement activities, giving equal access to all suppliers and treat all suppliers equally.
Training, supporting, monitoring and control in the Region of Brussels-Capital
The Region of Brussels-Capital (BE), was the Lead Partner of the URBACT II Sustainable Food in Urban Communities Network, which designed a complete training and support for school canteens and caterers: awareness-raising for future catering professionals, pilot projects with catering companies, training schemes, support with communication tools and equipment, and access to a help desk. This scheme is linked to the Good Food labelling of canteens, part of the Region Sustainable Food Strategy – the Good Food Strategy that is now in its second version.
The Region also published detailed Guidelines for canteens which stress the importance of control and monitoring, in order to ensure that the contractor commitments are respected in the delivery of contracts. It can take the form of an administrative monitoring (e.g. on a trimester basis), as well as -surprise (bi-)monthly check at the place of production (in case of on-site production). A third check is only necessary if there is any doubt about a possible problem. The guidelines also distinguish canteens with food prepared on the spot or delivered, describing criteria in concrete details and technical clauses.
Combining procurement solutions for more sustainability in Torres Vedras
As part of its Sustainable School Food Programme, which aims to provide healthy school meals in a social, ecological and sustainable way, the city of Torres Vedras (PT) a partner of the BioCanteens original Transfer Network looks out at food procurement concerns for its municipal kitchens, which prepare 1 400 meals per day. The city seeks to purchases raw food material exclusively and directly from local producers and suppliers, with the following combined solutions:
Lots for raw food material: organic fruits, conventional fruits, organic vegetables, conventional vegetables, meat, fish, grocery, bread and eggs.
Decision criteria applicate a percentage for: price, samples for quality evaluation, technical data sheets of the products, freshness related to the food transport time (minutes).
Mandatory conditions for supply: bulk products (if applicable), specific capacity of the suppliers, and replacement of non-acceptable products by quality issues.
Mandatory documents: price, products data sheets, document to evaluate freshness through the distance of the food production/storage.
Indeed, the 2014 Directives allow contracting authorities to both: exclude companies from tendering for not meeting certain conditions (exclusion criteria); and select the most suitable companies to bid based on technical ability and previous experience in relation to the subject matter of the contract (selection criteria).
Creating a whole food ecosystem using procurement as a lever in Mouans-Sartoux
Mouans-Sartoux (FR), is a flagship URBACT city that has achieved and shared its secret recipe for years now, especially as the Lead Partner of both editions of the BioCanteens Transfer Networks. As part of its overall transition, it has used procurement as a main tool to ensure the coherence of its entire food ecosystem. By combining lots, market engagement, use of labels, weights and criteria, in its tenders it has sought the pave the way and leading role cities can play. Yet, procurement is only one of the tools used to this end, and the dynamics go beyond food itself (see the image below). The experience of this city has been told using different formats (kitchen micro-good practices, Education Micro-good practices, set-up of a Maison de l'Alimentation Durable, among many others) and stories.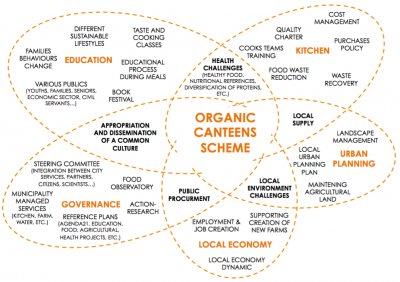 What if my city wants to go further?
Then above-mentioned examples are all accessible for interested readers to consult. And the cities that were used as examples for this article will undoubtedly be happy to share more about their experience. Other material can be found as part of the StratKit Interreg Baltic Sea project, the EU Food Policy Coalition paper on sustainable public procurement of food, and, the Manifesto for establishing minimum standards for public canteens across the EU.
Last but not, least, URBACT will carry on the debate and reflections on the subject of food procurement in the course of this year. So, stay tuned and be sure to check the URBACT Knowledge Hub!
---

Get more food for thought in the URBACT Knowledge Hub!