The ALT/BAU Transfer Network focuses on alternative strategies in central and historic districts of European cities to activate unused and decaying housing stock resulting from demographic, economic and social change. Based on the experiences from Chemnitz' URBACT Good Practice "Housing Agency for Shrinking Cities" (Agentur StadtWohnen Chemnitz), the network transfers experiences that proved successful to proactively connect administrations, owners, investors and users to initiate sustainable and resource saving development.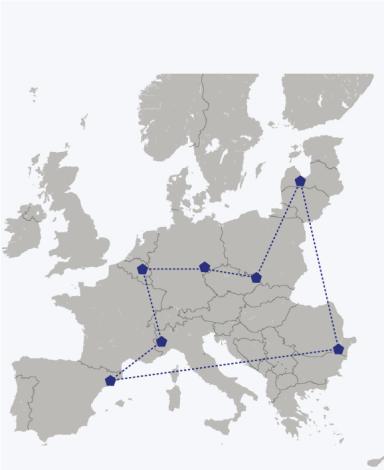 ALT/BAU on Twitter: https://twitter.com/ALT_BAU
The YouTube channel of the ALT/BAU network: https://www.youtube.com/channel/UC9cnqLy5ZLM9vBTrve1bvFw
Timeline
Phase 1 Kick-off meeting, Rybnik (PL). Phase 1 Final Meeting, Chemnitz (DE).
Phase 2: Kick-off meeting, Seraing (BE), 1st Transnational Thematic Meeting, Vilafranca del Penedès (ES), 2nd Transnational Thematic Meeting, Riga (LV), 3rd Transsnational Thematic Meeting, Constanta (RO)
Phase 2 Mid-Term Review Meeting, Chemnitz (DE)
Phase 2 Network Final Meeting, Turin (IT)
Capacity Building Webinar "How to Reactivate vacant residential Buildings"
Municipality of Athienou
2, Archbishop Makarios III Ave.
7600 Athienou Cyprus
Municipality of Santiago de Compostela
Municipality of Udine (Italy)
For any enquires into Tech Revolution, email: DMC@Barnsley.gov.uk

Keep following our social media channels as we develop Tech Revolution 2.0 as part of the second wave of URBACT ||| Programme. 
Follow our Twitter: @Tech_RevEu
Follow our Linkedin: https://www.linkedin.com/company/urbact-techrevolution/
Coordinator
ADDRESS
Av. Movimento das Forças Armadas
2700-595 Amadora
Portugal 
TELEPHONE
+351 21 436 9000
Ext. 1801
City of Rome
tamara.lucarelli@comune.roma.it
Department of European Funds and Innovation
Via Palazzo di Città, 1 - 10121 Turin (Italy)
Câmara Municipal de Lisboa
Departamento de Desenvolvimento Local
Edifício Municipal, Campo Grande nº25, 6ºE | 1749 -099 Lisboa
urbact.civicestate@gmail.com
Laura González Méndez. Project coordinator.
Gijón City Council
City of Ljubljana
Mestni trg 1
1000 Ljubljana, Slovenia
Project Coordinator Martin Neubert
+49 371 355 7029