This Transfer network builds upon the "Management model of Urban gardens in Rome" Good Practice, in order to transfer to EU cities geographically distant from each other to ensure sharing of experiences to enhance the capacities of local governance. Transfer efforts will be given to 3 distinct, interlinked, thematic components/elements that the Good Practice is divided into: Capacity building in organizing urban gardens, Inspiring and training people to manage urban gardens (Gardeners) and urban gardens governance & regulations.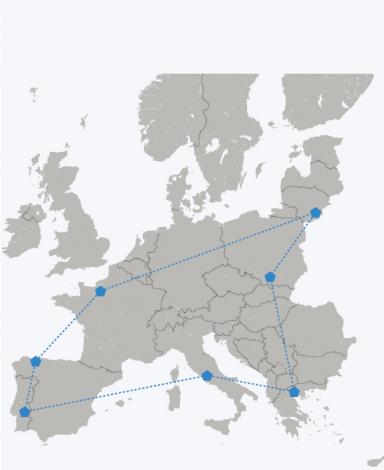 Timeline
Rome Transnational Meeting
Caen Transnational Meeting
Vilnius Transnational Meeting
Loures Transnational Meeting
Thessaloniki Transnational Meeting + Mid Term Reflection
A Coruña-Rome Bilateral ONLINE MEETING
Krakow Online Transnational Meeting
Krakow-Rome Bilateral ONLINE MEETING
Vilnius-Rome Bilateral ONLINE MEETING
Loures-Rome Bilateral ONLINE MEETING
Caen-Rome Bilateral ONLINE MEETING
Thessaloniki-Rome Bilateral ONLINE MEETING
Network Final Event - A Coruña June 28 2021
Thessaloniki Transnational online meeting
Krakow TNM second part (in presence)
Municipality of Athienou
2, Archbishop Makarios III Ave.
7600 Athienou Cyprus
Municipality of Santiago de Compostela
Municipality of Udine (Italy)
For any enquires into Tech Revolution, email: DMC@Barnsley.gov.uk

Keep following our social media channels as we develop Tech Revolution 2.0 as part of the second wave of URBACT ||| Programme. 
Follow our Twitter: @Tech_RevEu
Follow our Linkedin: https://www.linkedin.com/company/urbact-techrevolution/
Coordinator
ADDRESS
Av. Movimento das Forças Armadas
2700-595 Amadora
Portugal 
TELEPHONE
+351 21 436 9000
Ext. 1801
City of Rome
tamara.lucarelli@comune.roma.it